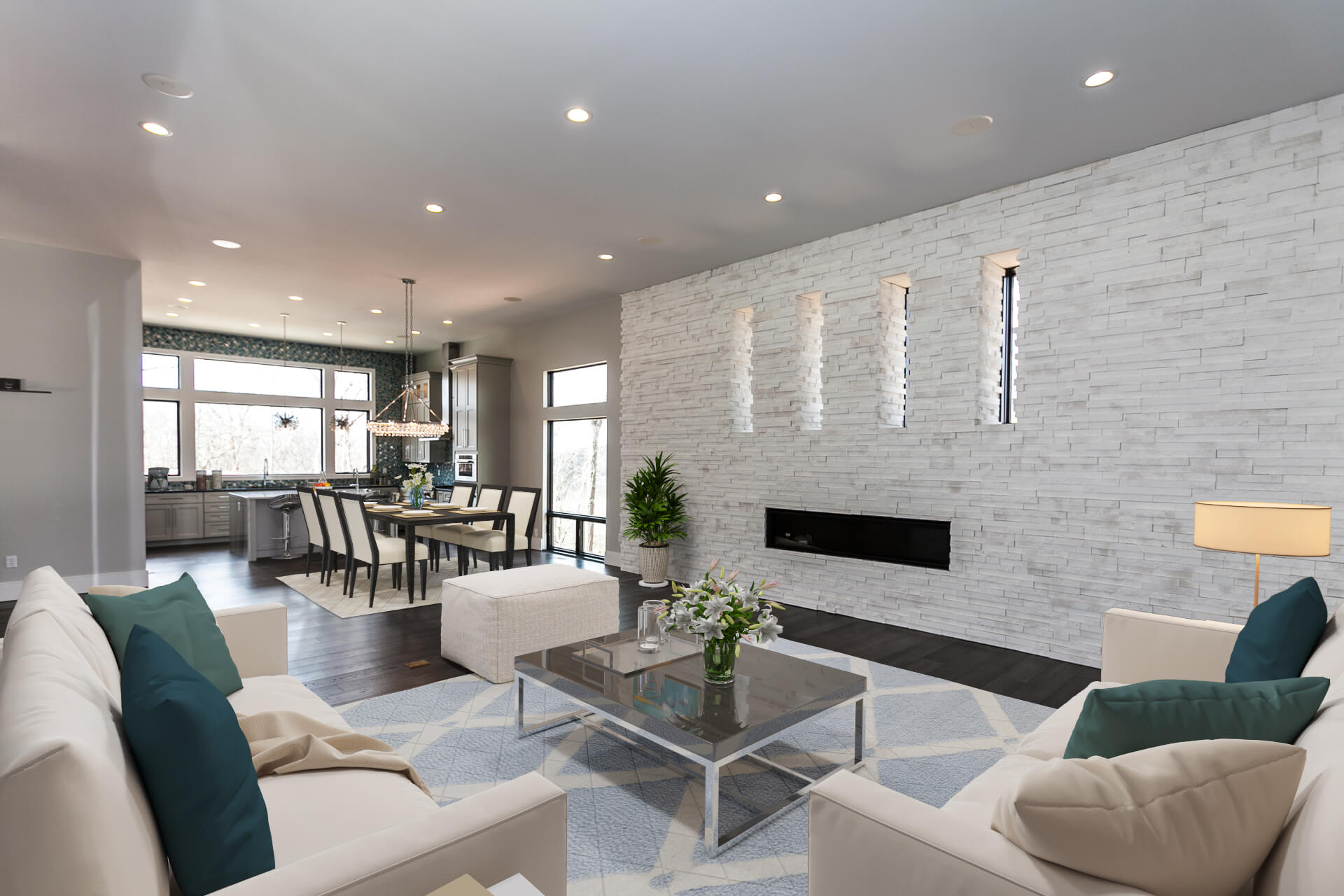 As you begin designing your custom home, there are a lot of questions you'll want to ask about function - number of bedrooms, bathrooms, cars in the garage, and more. The other big question you'll need to answer at the beginning of your home building project is which architecture style you'd like to use for your home. Our in-house architect and design team will work closely with you to help you make these decisions by taking into account the neighborhood you want to build in, the style that matches your tastes, and the costs associated with the materials and building techniques needed to achieve the look you want for your dream home.
From Modern Farmhouse to Modern Prarie to Contemporary, the tide in home design is turning back towards the modern end of the spectrum. As contemporary-style homes that borrow from simple and sleek style midcentury modern and arts and crafts schools of architecture have skyrocketed in popularity, many homeowners are surprised to learn that what appears to be a simplified home design at first glance is actually more complicated and costly - sometimes costing as much as 25% more than a traditional home design.
Why? Some of the primary design elements that make a home a contemporary style home contribute to a higher price point for materials and labor. Generally speaking, there are three primary factors that contribute to the price of building a new home: labor, lumber, and land. Let's look at how contemporary-style influences your home building costs.
Contemporary Home Construction & Design
Every architectural style has an aesthetic and markers that make it unique. Like the board and batten that defines a Tudor-style home or turrets with thin, tall windows for a Queen Anne, Contemporary Architecture has its own set of distinguishing traits.
Contemporary Home Finishes
Both inside and out, Contemporary-style homes are often characterized by the use and mix of unique materials. Inside you'll often find materials like cork, live edged woods, matte and tubed metals, Nano Glass, and polished concrete. Typically, the materials used for the exterior cladding of a contemporary home are also a distinctive part of the overall aesthetic and incorporate materials like concrete, metal, and stucco in full or as part of the home's exterior cladding. In both cases, the materials and finishes used for a Contemporary home are many times commercial-grade, which is naturally more costly than traditional home building materials.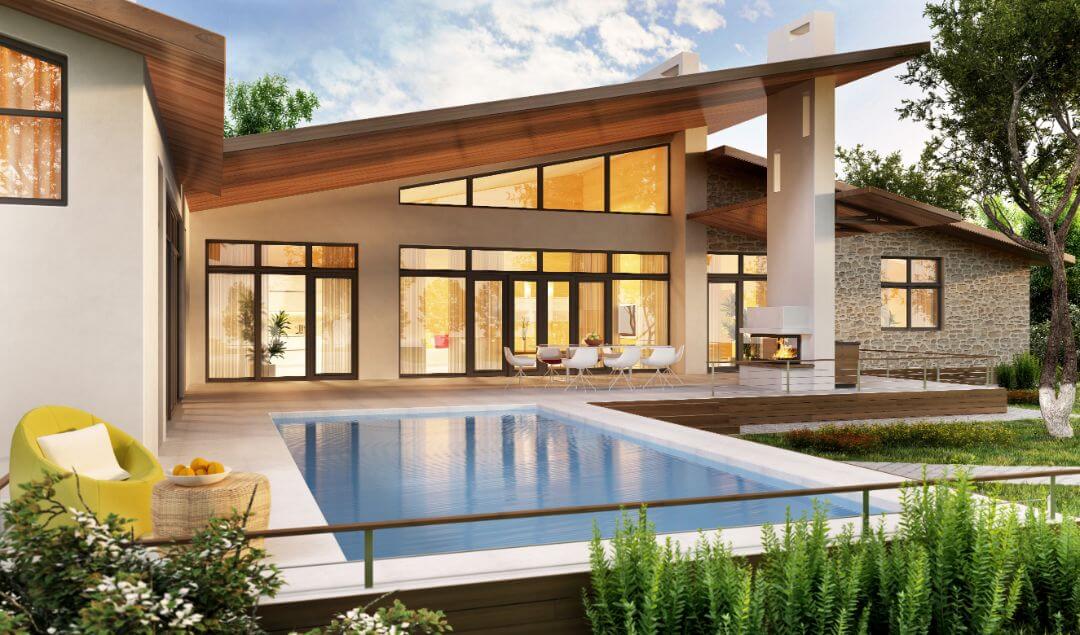 Another defining characteristic of Contemporary homes is the low roofline - most typically either flat, very low gables, or hipped roofs. Traditional shingles are not appropriate for the low pitch of these roofs which means specialty roofing materials are necessary.
Kim Says: Our design team and in-house architect can help you find creative solutions that give an updated look without an upated cost.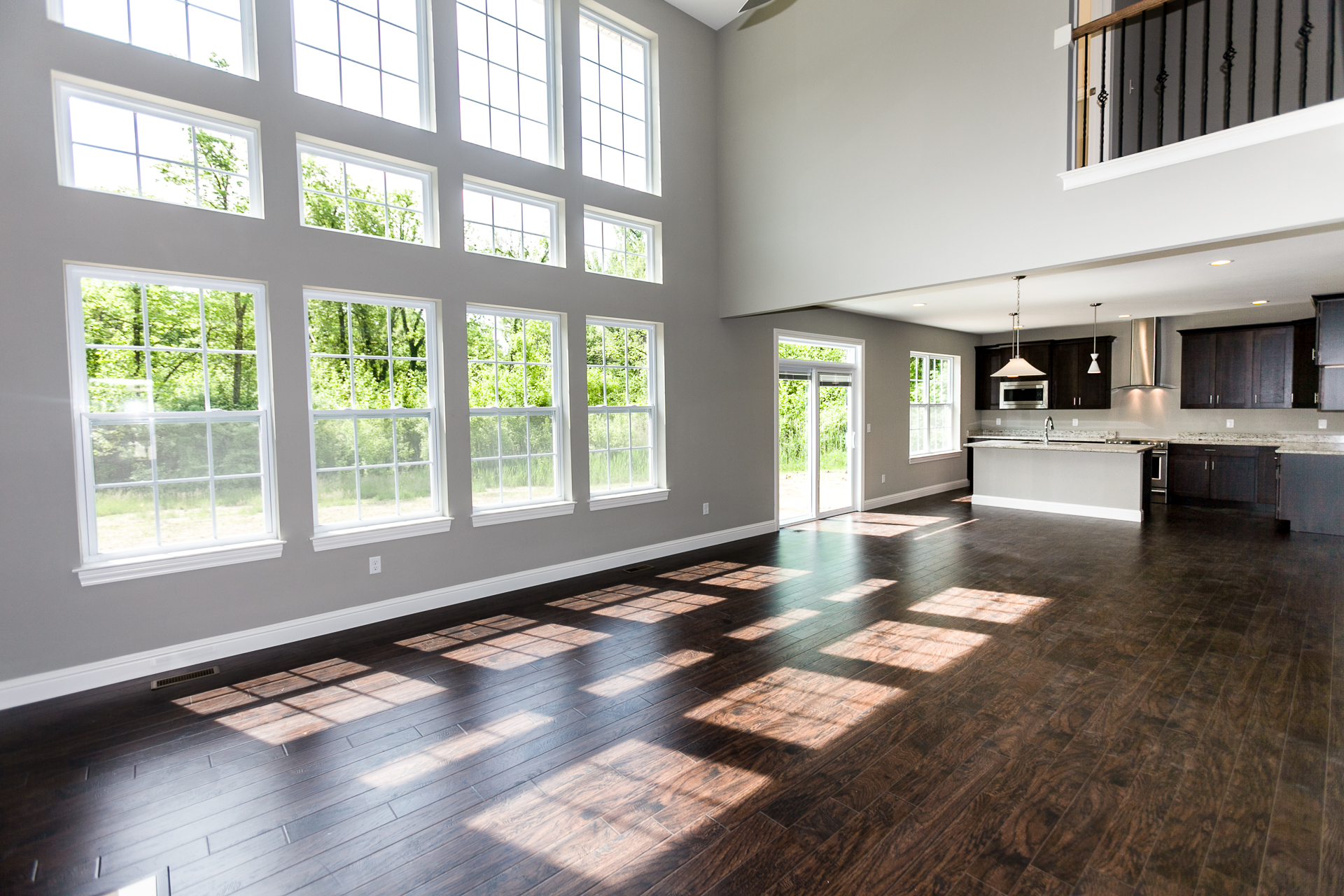 Interior Design in Contemporary Homes
Floor to ceiling windows is a hallmark of Contemporary home architecture and these windows play a major role in completing the exterior and interior look of these style of homes. Because of the sheer size of the style-defining windows and their closeness to the ground, the enormous pieces of glass are more expensive and the materials to frame the window have to be strong enough to hold them. Like the unique materials used for exterior cladding and interior finishes, windows this size are typically available only through special order or are commercial-grade.
Though not exclusively, many of contemporary homes are ranch or reverse atrium homes, meaning they have a rear double-height atrium that extends into a walk-out lower level. Two-story or single, an expansive open floorplan that makes the outdoors feel like an extension of the main living area is another emphasis in most contemporary designs. The more open a floorplan is, the fewer options you have for running electric, plumbing, and HVAC, which will ultimately increase your cost for materials and labor. Since your floorplan has an impact on which type of lots you can build on due to size and proximity to neighboring houses and an atrium ranch may require more attention to grading and excavation, a Contemporary-style home may also limit your land options.
Kim Says: Using clean sleek lines and making creative use of your interior walls can give you a contemporary profile while keeping helping to manage your building costs. Vertical siding and unique placements of residential windows (see above) are just a couple of examples of ways we've recently helped clients add some modern style to their custom homes.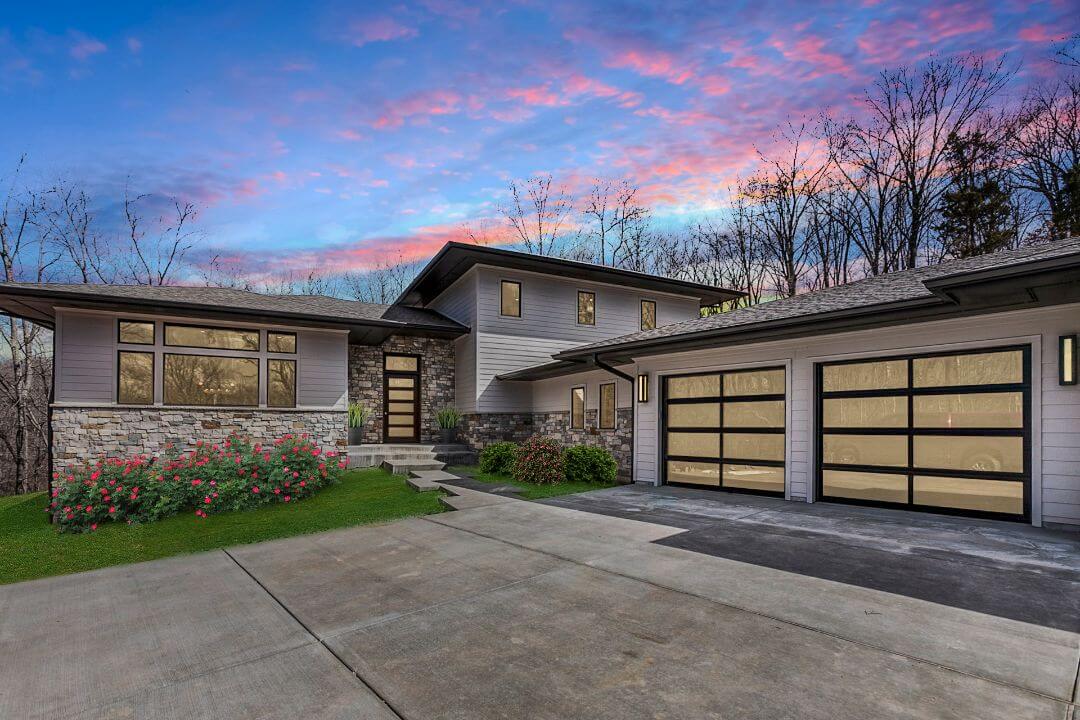 We recommend consulting your general contractor and builder at the beginning of the design process to make sure the architecture style you want will fit within your home construction budget. Many architects appreciate having a home builder who is experienced with custom homes at the table because they can consult and guide design decisions based on the current costs for material and avoid some common challenges that occur in custom home designs - saving you time and money over the course of your project.
If you're ready to begin designing the home of your dreams, take a look at some of our home building resources and get in touch with our expert new home construction team.