Pet owners everywhere can agree that our furry friends are more than just a pet—they're a part of the family. So, ensuring they're comfortable in your home is very important. With that in mind, we're sharing 10 new home features to make your home a pet friendly custom home. Check them out below!
3. Pet Door
Built-in pet doors aren't an entirely new concept but they've come a long way in recent years. Instead of your basic pet door with unsightly plastic flaps, homeowners have a lot more options and can be integrated into your home's design.
2. Built-In Food + Water Features
Everybody has to eat and your pets are no exception - but your pet friendly custom home can make this part of your day just a little bit easier. Here are a few convenient features to include your pet's eating and drinking habits into your new home's design.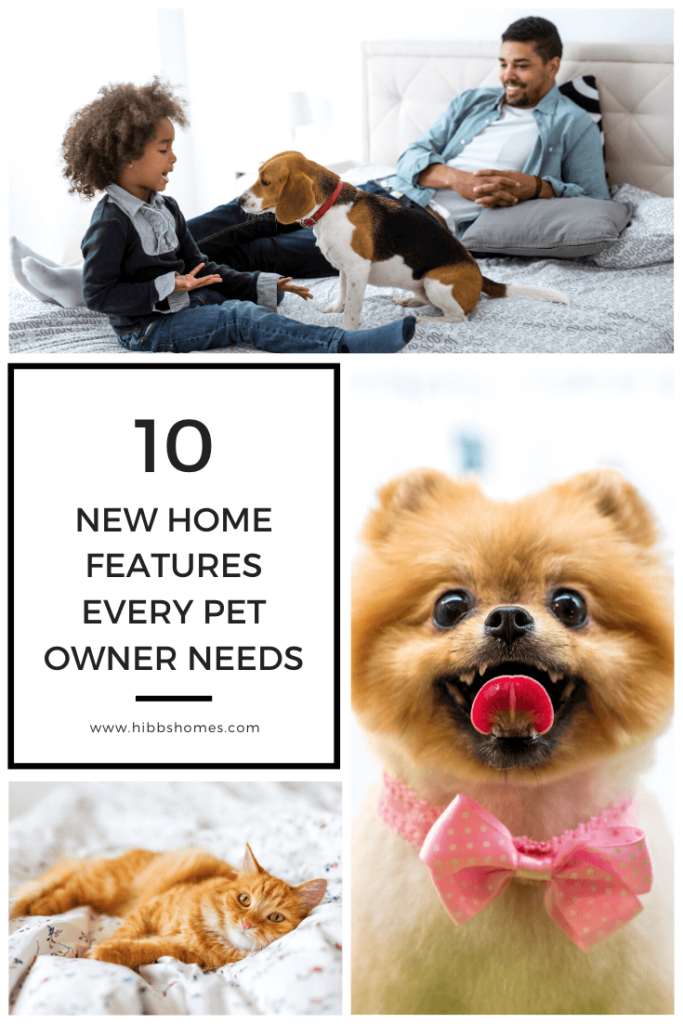 Built-in Pet Food Storage: Add pet food storage to your new home's kitchen cabinets or in the pantry. Not only will it keep pet food bags from clashing with your home decor, but you know the food will be safe from your cat or dog because it's kept in a secure space.
Built-In Food and Water Bowls: Keep your kitchen looking neat and tidy with a built-in area for pet bowls. A dedicated space makes it less likely that you'll trip over the bowls and prevents food from spilling everywhere. You can even take it to the next level and install a faucet near the pet food station to make it easier to refill water bowls.
Outdoor Water Bowl: An outdoor water bowl is a huge advantage for pets and their owners in the warm summer months. Incorporate a permanent water bowl into your home's landscaping by placing a sturdy basin underneath an outdoor water spigot to ensure your pet has access to water throughout the summer.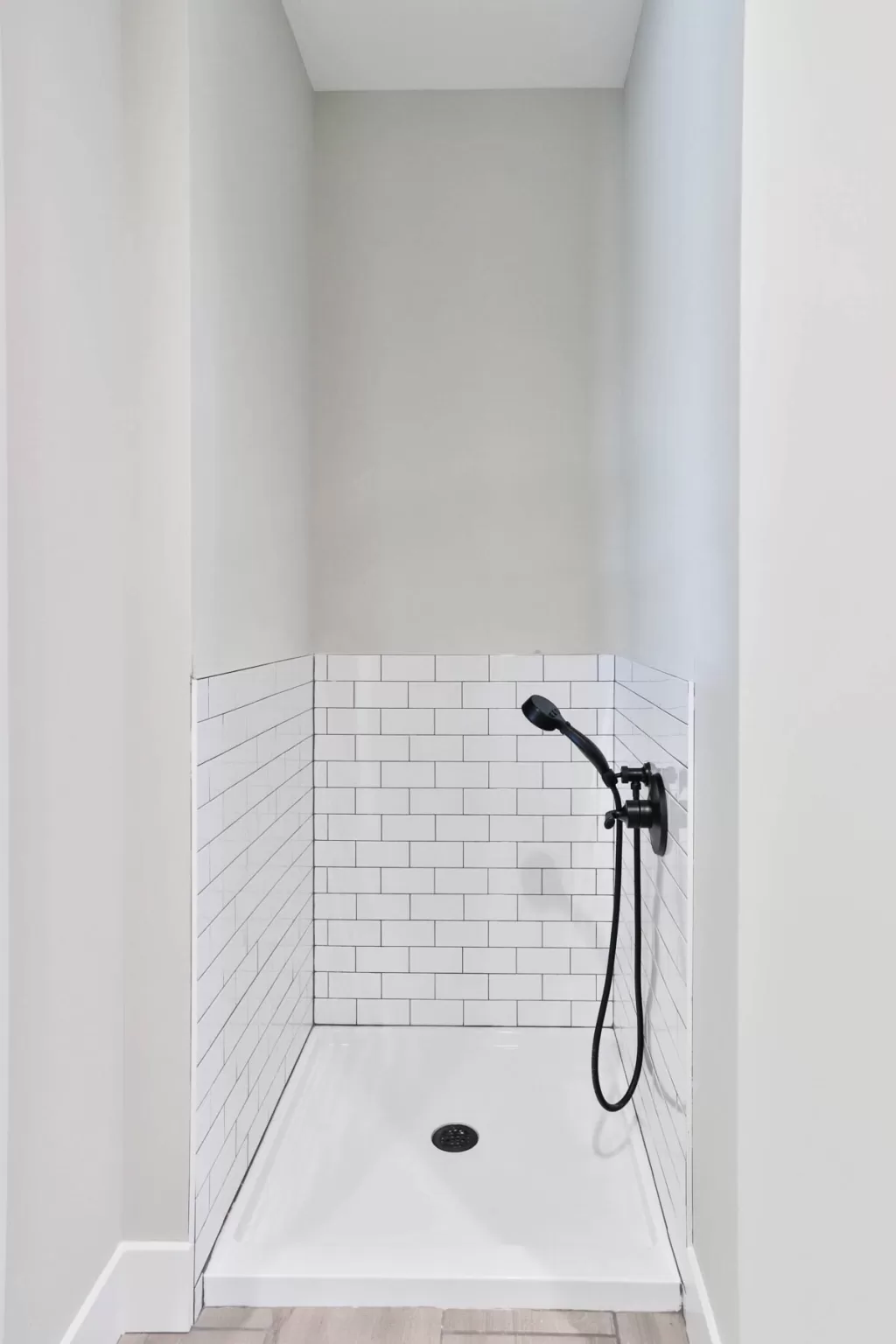 3. Pet Bathing Station
If you've ever tried washing your dog in the tub, then you know what a disaster the whole process can be. There's no greater challenge than trying to give Fido a good scrub while trying to keep him from escaping mid-bath. By the time it's all said and done, you're left with an aching back and a tub coated in pet hair. The solution? A built-in bathing station!
Many homeowners have started incorporating a pet-sized walk-in style shower in their mudroom or garage to make bathing their dog easier. The design's open concept allows for dogs of all sizes to fit inside the tub, while a handheld shower head and built-in eye hooks keep your pup—and the water—inside the tub.
4. Hidden Litter Box
Cat person or not, there's no denying just how unsightly a litter box can be. The good news is that innovations in the pet industry have begun to provide more attractive solutions for litter boxes. Litter boxes can be hidden in anything from chic furniture to faux potted plants to a separate room with a door.
Another option is to build a nook into your home's cabinets so you can discretely slide the litter box inside. This is great to do in the bathroom, as you can use the fan to take care of any unappealing litter box smells.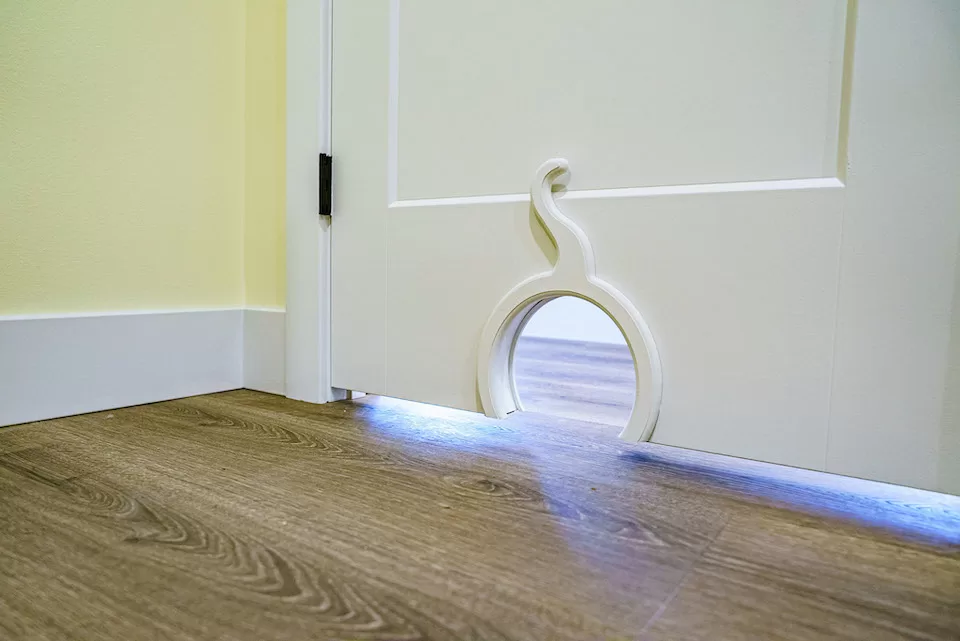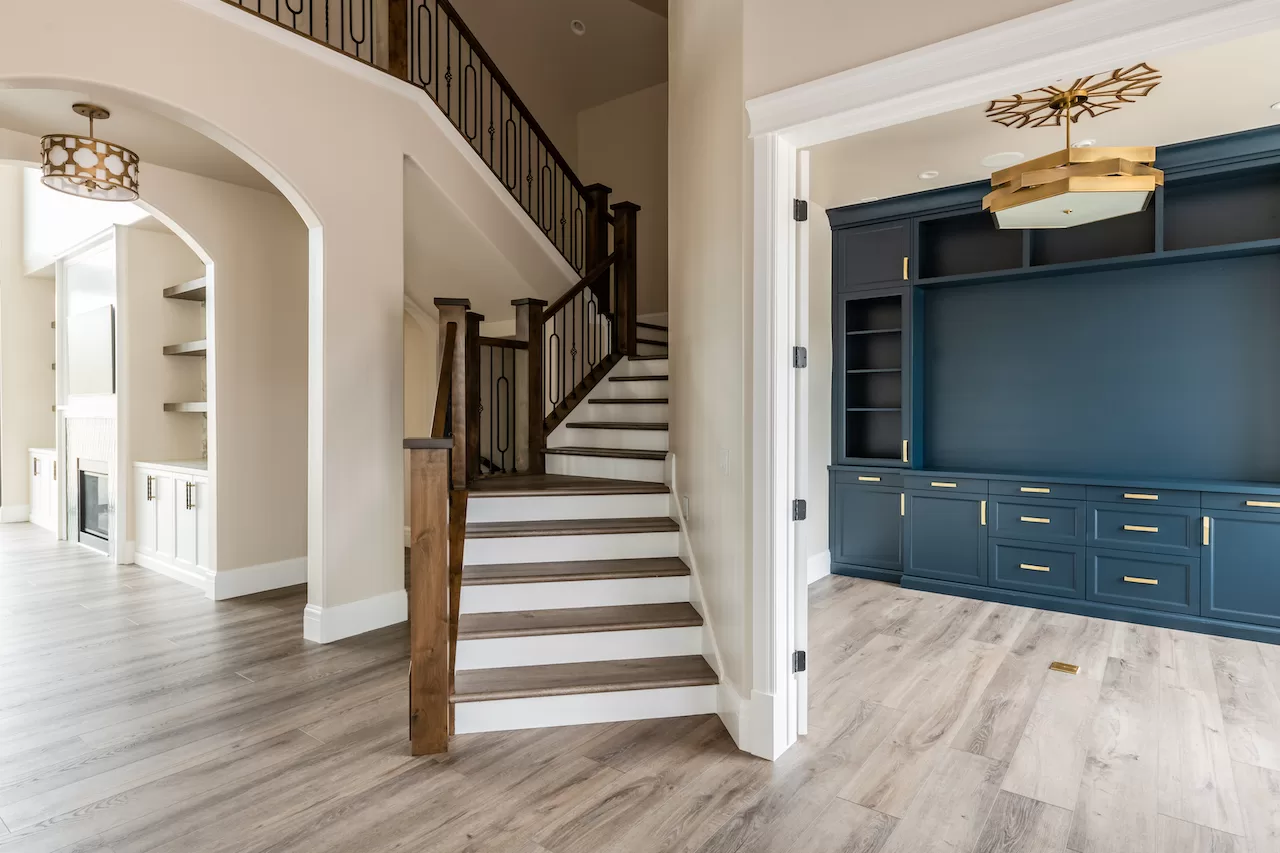 5. Durable Flooring
Households with pets can be chaotic and your home's flooring can take a lot of abuse. To minimize the effects your pet's claws will have on your flooring, opt for a more durable option like a luxury vinyl plank (LVP).
LVP flooring is much sturdier than traditional floorings like laminate or linoleum and is known to be scratch and water-resistant. Having grown in popularity, LVP is now available in a wide range of colors and designs, including realistic wood grains.
6. Built-In Pet Beds
More and more homeowners agree that their pets can benefit from their own space within the home. For that reason, a new home feature many homeowners are adding to their existing cabinetry is a built-in pet bed. Built-in pet beds keep your home free of clutter while still ensuring your pet has a quiet space to relax.
7. Built-In Pet Gate
Sometimes, there are just places you don't want your pet to access. For a lot of homeowners, that's the kitchen while meals are being prepared. In those cases, a built-in pet gate comes in handy. While a traditional baby gate is an effective solution, incorporating a built-in pet gate is a much better option because you can customize it to your home's design. Consider adding a swinging gate or a half-door so you can keep the desired area pet-free without completely closing it off from the rest of the home.
8. Outdoor Ramp for Aging Dogs
As dogs age, they often find it difficult to go and down stairs. If your pup is getting up there in years, consider adding a ramp to your deck or porch to make it easier for him to get around. As an added benefit, a ramp reduces the risk of joint damage and other injuries in younger dogs.
9. Enclosed Cat Patio
An enclosed cat patio—or catio, if you will—is an essential new home feature to provide your indoor cat with a safe place to enjoy the sun. Simply add outdoor fencing to your patio or deck. Adding climbing posts and perches will also encourage your kitty to get some extra exercise while she's enjoying the great outdoors.
10. Central Vacuum Cleaning System
While there's no doubt we love our furry friends, living with pets often means dealing with pet hair all over the house. One new home feature dedicated to combating all that hair is a central vacuum cleaning system. With a central vacuum cleaning system and multiple outlets throughout the home, cleaning up pet hair is as simple as sweeping it into the vacuum outlet.
Interested in adding pet-friendly elements to your new home design? Hibbs Luxury Homes can help! Our experienced team can help you develop a design fit for you and your furry friend! Contact our team for more information.