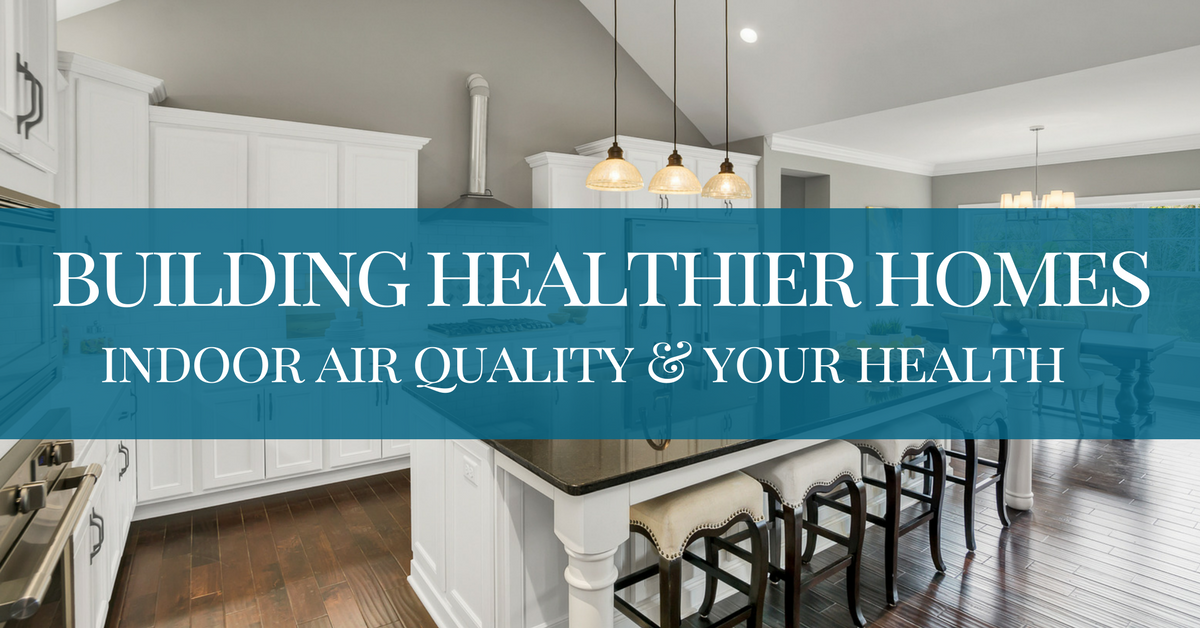 Building Healthier Homes by Design
How the Indoor Air Quality in Your Home Impacts Your Health
New parents know all too well the weight of responsibility and overwhelming love that leads to middle-of-the-night checks on little ones - just to be sure that their little chests are rising and falling as they sleep. It is with this same well-intentioned care that parents often scrub their homes with strong cleansers and replace old flooring just before the new ones make their arrival into the world. Unknowingly, these choices can lead to indoor air pollution, which can increase the risk of infant bronchitis and hospitalization.
Even if you don't have children, there may have been a time you've been exposed to a space that made your eyes water, your skin itch, or your headache. Upon leaving, your symptoms subsided - a clue that something wasn't right with the building - maybe mold, harsh chemicals, mildew or worse.
We believe that the home you live in can absolutely set the tone for the quality of life that you will have. More than just functional floor plans and design aesthetics, the home's materials, construction and systems can affect your family's wellness. For that reason, we are working to build healthier homes. From the very first, we've worked with our clients to meet each of their needs - and we take the opportunity to recommend building elements that will prevent indoor air pollution and promote a healthier home.
The average home is typically 5x to 10x more polluted than the outdoors. We believe it doesn't have to be this way.
Toxins in your home may come from the materials chosen in your home's construction "off gassing," or releasing toxic fumes and chemical vapors into your home. They may also come from mold or mildew build-up, radon, asbestos, combustible gases, cleaning chemicals, and more. Over time, many families unknowingly add to the problem with furniture additions and renovations. We eliminate preventable causes of indoor air pollution to support our clients' long term health.
At Hibbs Homes, we've always worked to build healthier homes - ones that are non-toxic, energy efficient, and designed to prevent environmental health issues. We made a conscious choice to build in a way that considers whole health, because we know that our work will have an effect on our clients and their families long after they move in.
When the Kuentz family was relocated from Texas to the Midwest, they worried for their child who struggled with severe allergy and asthma issues. To put their minds at ease, and to ensure their child would be healthy and comfortable at home, we considered every angle to build them a home that was ideal, and one that could support the entire family's health and wellbeing.
For families like the Kuentzes and others, Hibbs Homes employs elements that will minimize pollution of all kinds throughout the home, including:
Advanced HVAC Systems.
One of our go-to HVAC systems is the Unico System. This unique systems stays cleaner and stops issues that could cause allergies and asthma before they start. Geothermal systems, such as the one employed in our Proud Green Home project do not rely on fossil fuels. This home system swap results in immediate air quality benefits to those with respiratory sensitivities.
Watch our team discuss the use of geothermal in one such home:
Air Filtration & Ventilation Systems
These systems can be implemented to capture & remove any pollutants in the home. The Zehner system, installed in Proud Green Home of St. Louis provides a constant flow of fresh air from the outside, and pulls out stale air as well. Systems such as these may also remove humidity and moisture from showers and bathing areas to prevent mold and mildew.
Better Building Materials
We work with our suppliers to find out everything that goes into the materials we install in your home. Indoor air pollution can be stopped before it starts by ensuring better choices in building materials - from formaldehyde-free cabinets to low-VOC paint. A great resource for home owners seeking to research their own materials if the Greenguard UL Spot - which screens home products for more than 10,000 chemicals and rates them accordingly. Click here for more details. 
Moisture Prevention From the Ground Up.
You may have heard the term "thermal envelope" before. This is a critical part of our building process - and one that improves both the energy efficiency and the health of your home by preventing moisture and other issues by taking special care from the foundation to the walls, insulation, and roofing. By doing this, we prevent moisture that can cause mold, mildew and other allergens. Preventing these contaminants is an important step in building a healthier home.
Floor Protection Wrap
Using a polyethylene wrap to protect a home's subfloor during construction allows for removal of building dust and other materials that may adhere to the floor while early construction work is being completed. KleenWrap floor protection can be placed on a home's subfloor as soon as the concrete is cured. Then exterior and interior walls can be constructed right on top. KleenWrap can be used to protect surfaces including stairs, concrete floors in garages, and any concrete slab to protect them from the same construction site contamination that wood surfaces are subject to. When construction is complete, a utility knife can be run along walls and the KleenWrap can easily be removed, along with any contaminants it captured while in place.
If these preventative measures don't ease your mind or if you're curious about the quality of air in your currently home, consider an air quality monitor, such as the Awair Glow. The monitor easily plugs  into an outlet and quietly measures the quality of air in your space measuring the parts per million (ppm) of CO2, the temperature, the humidity and chemicals in your air - such as methane, ammonia, carbon monoxide, and more.
If you're considering building a custom home in the St. Louis region, let's talk about your priorities, your family's needs, and how we can build your a truly healthy home. Click here to contact us or schedule a quick conversation to learn more.