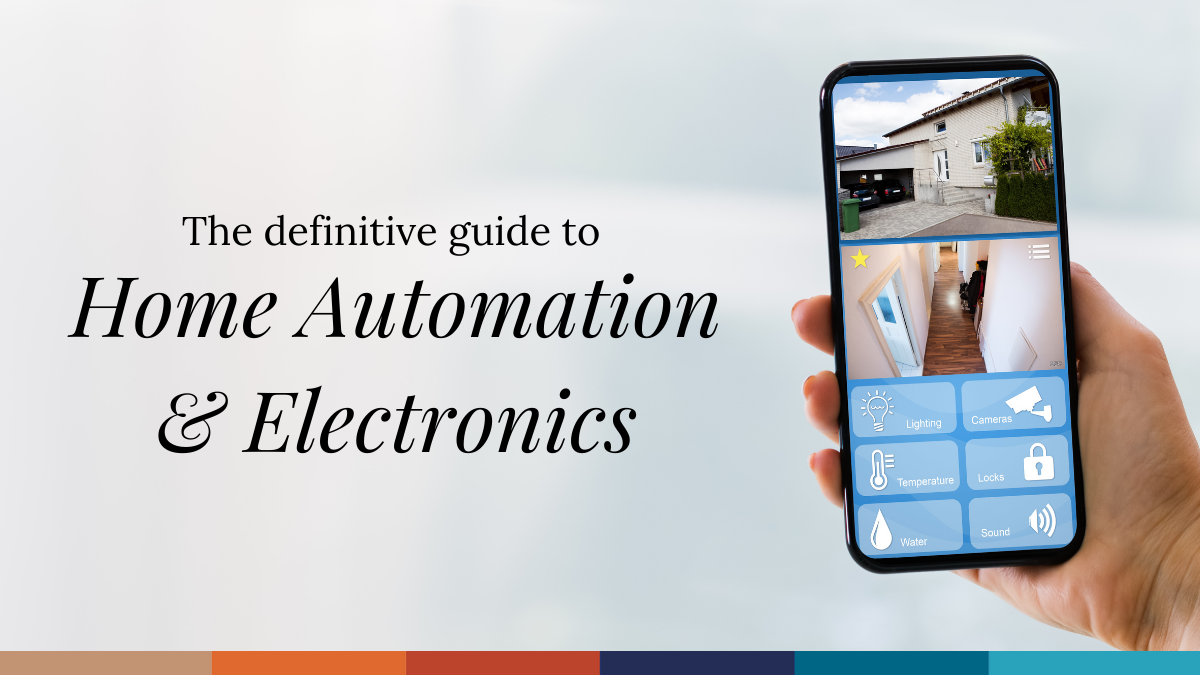 Smart Home & Automation Options to Consider for Your Custom Home.
Building a custom home is an excellent opportunity to integrate the latest smart home technology into your home and everyday life. Just a few years ago it was smart thermostats and security that defined a smart home. In 2021, custom homes have become high-tech havens that adapt to your family's routines and needs.
From a simple voice command to have your favorite coffee waiting to pick up on your drive to work, to complete routines that greet you with the perfect lighting, background music, and room temperature - smart home technology has come a long way in a short time. Technology continues to move rapidly, and the custom design/build process means you can future-proof your smart home's design so you can easily upgrade as technology continues to rapidly change the way we live.
At Hibbs Homes, we work with the team at The Sound Room to identify and integrate both present and future technology for building smart homes in Park City, UT and St Louis, MO.
Smart Home Automation Ideas & Options for New Home Construction
With the proliferation of smart speakers and AI powered assistants, many homeowners have become more comfortable with after-market smart home technology. Some homes and businesses even rely on these devices on a daily basis. But a true smart home is built by connecting a variety of automated features and components to one central hub, creating a holistic system that can work together to make your home more comfortable and even healthier. Another benefit of whole house integration is the ease of keeping your entire home up to date and online.
The first step towards building your smart home is taking inventory of how you will use your home and your goals for how you want to live. Everything from your lightbulbs to virus cleaning HVAC systems can work together seamlessly, creating the ultimate haven and luxury lifestyle.
The experts at The Sound Room suggest considering the following in your new smart home design and construction...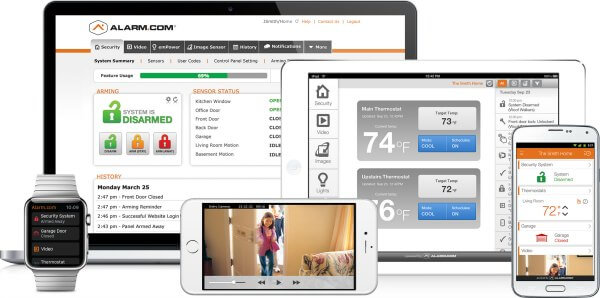 Smart Home Controls
Managing your smart home with the touch of a button or using touchless voice technology gives you added convenience and control over your entire home.
Managing your home's comfort and daily operations via a set of easy to access controls can also be a parent's best friend - especially when several family members are working or attending classes from home. You can establish whole house parental controls to limit WiFi and content access and you can prioritize groups of devices during school or working hours to increase the speed of your connections when you need it most.
Using your smart home controls you can set scenes and routines that trigger preset conditions such as lighting, temperature, and audio levels for entertaining, home, and away. You can fold a number of options into your central smart home controls, including:
Locks, Garage Doors & Gate Control
Retractable/Adjustable Window Shades
Smart Home Security Alarms, Cameras, and Doorbells
High-Performance Audio & Video
Easy Media Library Access with Parental Controls
Control Access to WiFi Networking
Remote Monitoring & Access
Audio & Video Integration
Watch the game while using the outdoor kitchen. Switch between playlists while you're relaxing with a cup of coffee. Pull up a safe set of videos for the kids to watch in the basement rec room. Quick access to your favorite media such as movies, podcasts, and music in every living space in your home - inside and out - is one of the primary uses and conveniences that homeowners ask for in their smart homes.
With the latest designs and voice operations, smart home technology virtually disappears into your home's design. The Sound Room also offers hundreds of styles, shapes, sizes, and installation options for in-wall and in-ceiling speakers that will bring high-quality sound into any room of the house without disrupting your home's interior design.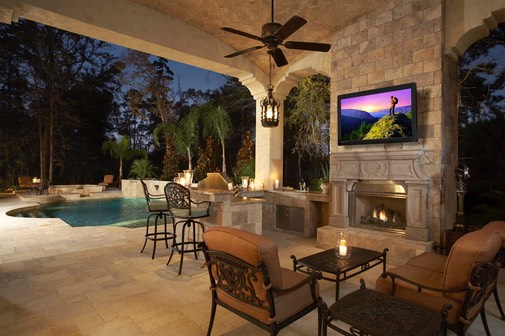 Smart Home Security
Home or away, inside and out - the latest smart home security technology gives your family comfort and peace of mind of knowing you're protected. By building a robust system for monitoring and managing different security features of your home you can be more proactive about your family's safety. Smart home security features that can be tied together include:
Integrated Motion & Fire Alarms
Programmable & Remote Management of Lighting Indoors & Out
Smoke, Temperature, Water & Motion Alarms
Doorbells & Camera Systems
Managing security and utilities remotely with smart home automation is a great option for both primary and vacation homes. When building a vacation home there is a lot of extra security afforded by being able to remotely control access to your home and monitor the conditions inside.
Smart water shutoff features are a great option for protecting a custom-built vacation home and some luxury home communities are now requiring them. Installed during custom home construction, this technology will monitor and shuts down the main water line going into the house if there is an issue, saving homeowners a lot of time and expense.
Lighting is an often overlooked but very effective and important home security feature. When connected to smart home technology, homeowners can make it appear as if someone is home by running programmed light changes when they are away from your vacation home or primary residence. You can also remotely monitor and access landscape and outdoor security lighting through your smart home hub.
With the Sound Room's smart home security features, homeowners have access to 24/7 monitoring and technical support to make sure their home security system is always up and running when they need it most.
Outdoor Smart Home Technology
Outdoor living is a top priority for many homeowners, and designing a custom floorplan that flows from the inside living spaces to the outdoors adds an extra touch of luxury to your home. Smart home technology gives you the opportunity to expand your entertainment, lighting, and even your workspace into the great outdoors.
Whether you're spending time in the pool, hot tub, patio, or an expansive lawn, smart home technology can add an extra layer of convenience and safety to your outdoor living spaces with the following features:
Outdoor WiFi Expansion for Work & Play
Landscape & Hardscape Lighting Controls
Outdoor Televisions & Speakers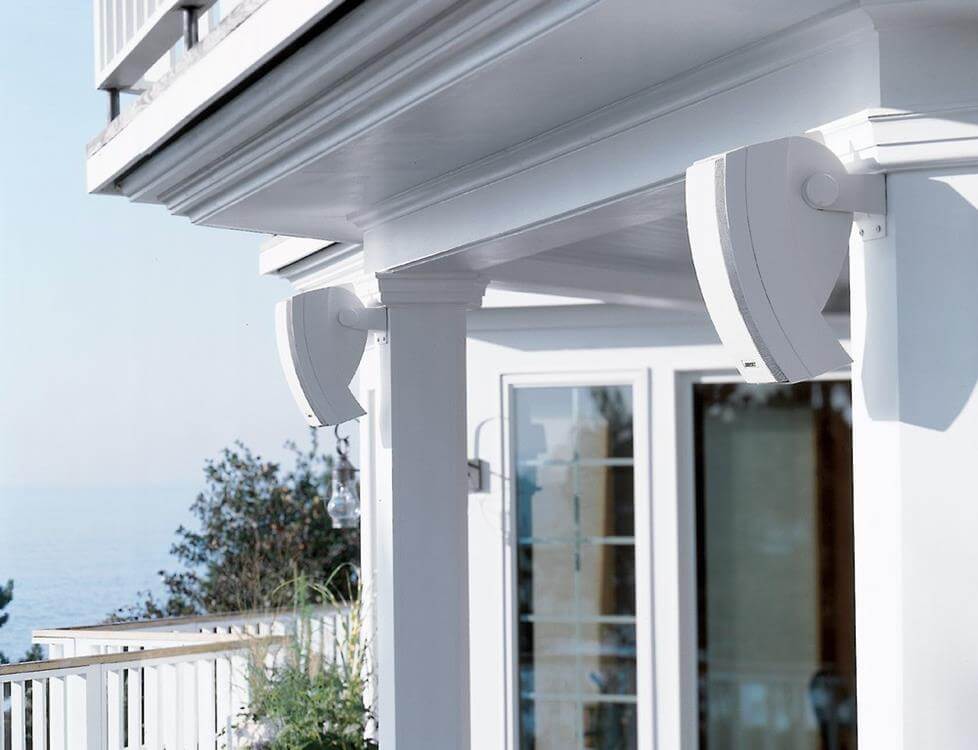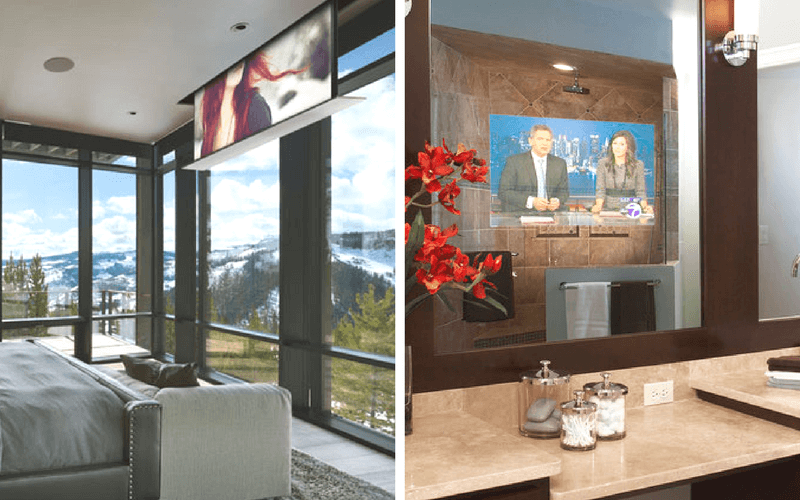 Smart Home Design Elements
While we all love to see what's on TV, the television itself isn't the first thing you always want to see when you walk into a room. Smart technology can help improve the aesthetics of your room by offering options for TVs that lower from the ceiling, music that plays from invisible speakers, or even televisions that show in the mirrors of your bathroom or home gym.
Blending technology and style is an art in itself, fusing functionality and beauty to create the perfect digital lifestyle. As technology has advanced, there are many options that now offer that artful balance in any room and for any component.
With pop up outlets and designer flush outlets and switches from brands like Trufig, there's no need for mundane wall plates and switches to diminish an otherwise gorgeous room. Flat power outlets enhance the design of your home, making those functional requirements as stylish as the rest of your home. The Sounds Room also works with you to help design your home's electrical layout so you can place outlets behind your television or place speakers in specific locations to achieve the best sound quality throughout the room.
Smart Home Technology to Watch
We expect to see the next rising smart home market to be smart kitchens. With the growing numbers of smart refrigerators in homes today, the next logical wave of popular integrations will likely be smart ovens.
As more people begin adding smart components to their homes, the demand for homes equipped for smart technology is increasing. Today, more than ever, it is important when choosing a custom home builder to ask about their ability to integrate smart technology and design approach for future-proofing their homes.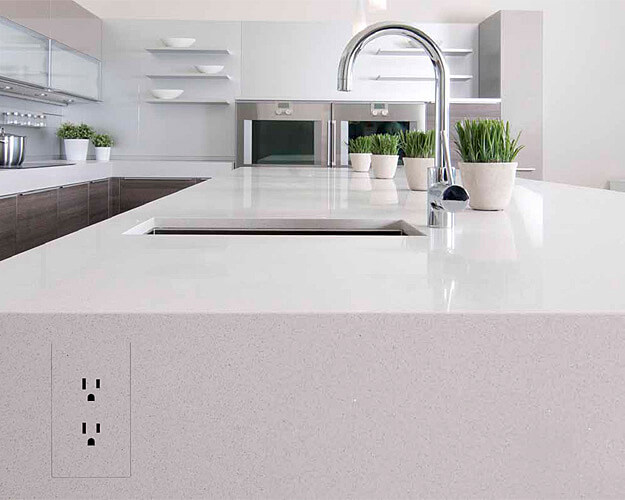 Are you ready to start planning your custom smart home? Work with our in-house team to select every detail and design a home that is connected and intelligent. Contact our expert home building team today, and this time next year you could be ordering your favorite coffee with a simple voice command before you head out the door.