Things to Consider When Designing the Master Bathroom in Your Custom Home
When it comes to the loo there are only a few things that are appropriate to bring up in polite conversation, and a well designed bathroom falls squarely into that category. When buying and selling a house, behind the basic structure and kitchen, bathrooms are one of the top considerations for buyers since they can be costly and time consuming to remodel or build.
We built this master bath picture on the right for a home addition project in Clayton, MO. This en suite includes custom cabinetry and a custom vanity space.
A well-appointed master bathroom is a huge perk for homeowners and can be a great selling point. From spa-like retreats to zen like spaces, how your perfect en suite shapes up depends on your preferences, but there are a few considerations to help you master your master bath design.
Double Vanity
A double vanity is important, so choose a wall that has enough length to allow for a double vanity and two mirrors. Vessel sinks mounted above the counter are a popular option for master vanities, and also give you a little more storage space below the counter.
(Inspiration -Photo by Ligneous Kitchens - Browse bathroom photos)
Water Closets
If you have the space, a water closet to enclose the toilet is an ideal way to create privacy for a shared bathroom. Installing a small window or using a frosted glass front door allows in enough light to help keep the space from feeling too claustrophobic.
(Photo by Normandy Remodeling - More bathroom ideas)
Showers & Tubs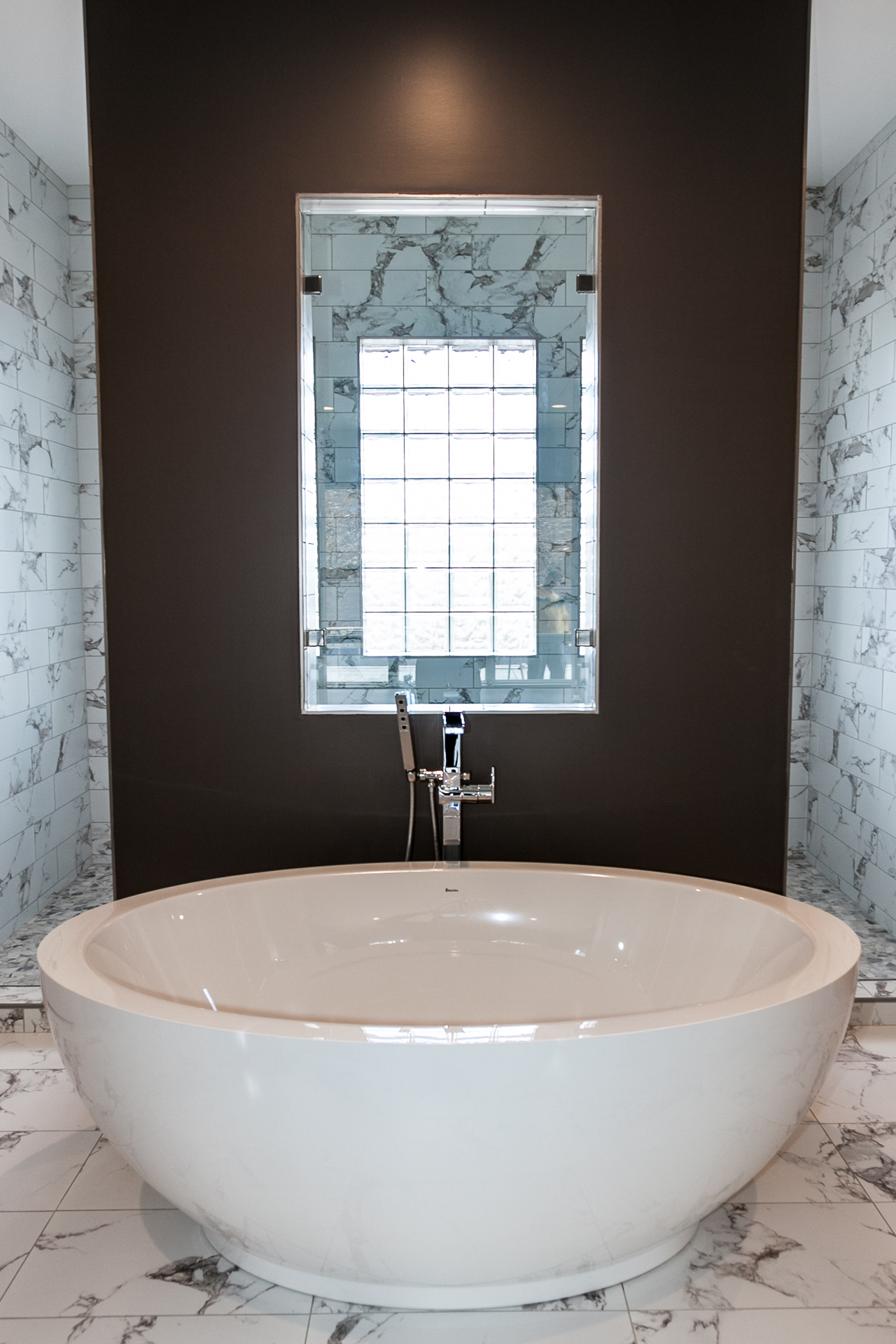 A separate shower and tub design gives you the ultimate flexibility when choosing your tub. Glass front doors are a good option for keeping the space open, but an open shower has the added benefit that you don't have to plan separate ventilation.
The tub at left was a part of the design of a luxury custom home we built in Wildwood, Missouri. Behind the tub, is a separated open double shower. Click here to learn more about the project.
Materials
When choosing your materials tile and natural stone can't be beat for water resistance, durability, and style. Mosaics and inlaid glass tile strips help add style and durability to your space.
There are many of options available for colors and styles, but current trends are leaning more towards whites and fresh, open spaces. When working with your home builder to design or redesign your master bathroom use resources like Pinterest and Houzz to collect some of your favorite looks and materials to get a completely custom look and find your sweet en suite.