Jerremy and Danielle Strassner and their two kids were living in their first home, an older starter home in Shrewsbury, when Jerremy inherited a long-held family property in Brentwood, Missouri. "It was the house my father grew up in, which he was renting out. We intended someday to demolish it, and to build a house big enough to live in and take care of our parents, but then he passed away unexpectedly and so we had to decide what to with the property."
Jerremy and his growing family lived in a 70 year old home in Shrewsbury. A fine home in its own right, the house just didn't feel right for their growing family. "It didn't have much of a yard for our kids to play in, and because of its age, the house was requiring a great deal of upkeep and expense," said Jerremy. For these reasons, the Strassners decided to design and build a custom family home on the lot they'd inherited.
The Strassners had a vision for their new home as being one that could serve their family's needs now and in the future. Their top priorities for the design of their family home were:
1) Easy living with the kids. With two kids, ages 11 and 8, the Strassners wanted their home to be conducive to spending time together. They while they're still yard - but to also give them space to play freely in the yard.
2) A space for either my their parents or relatives to stay if ever needed in the future.
3) Lots of natural light throughout the home.
The Strassners met with Kim Hibbs and their architect Ann Florsek to begin the design process.
To accomodate life with kids, the house was designed with an eat-in kitchen and dining space that features a large island with stools and an in-kitchen dining area. This open space allows for family time while cooking, and group meals.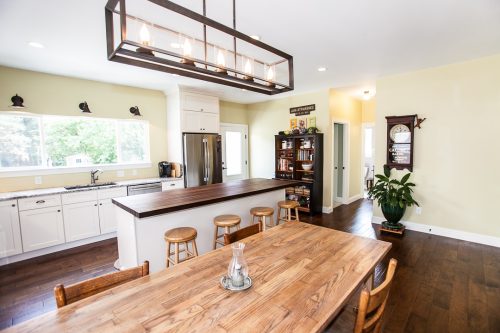 An upstairs rec room space was created just outside the bedrooms provides an easy space for reading, to play music or do homework - and a space where the kids can get away from the common family area and enjoy some quiet time.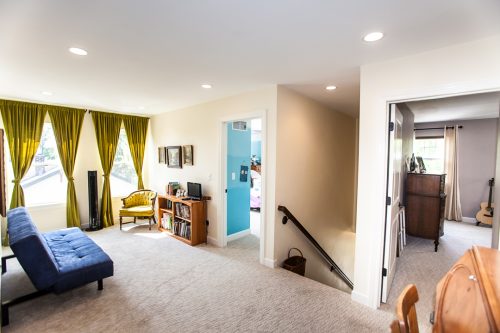 The bedrooms were designed and decorated with the kids' personalities in mind - and are large enough to accommodate their needs as they grow.
An additional main floor bedroom was included with easy access to laundry, bathrooms and kitchen for any family members that may need to stay with them in the future.
A backdoor patio with walkway allows the family to enjoy their spacious backyard, and to gather for relaxed family meals at the end of the day. A large kitchen window allows mom & dad to keep a watchful eye on the kids. The yard layout accomodate family hobbies of woodworking & gardening.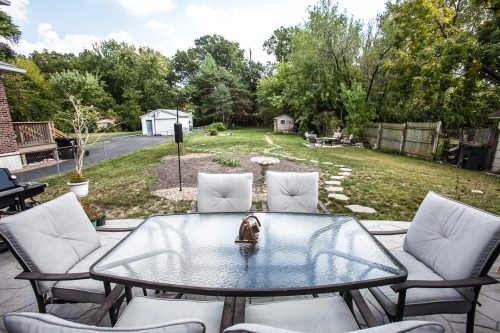 An unexpected feature that I loved the HVAC, fresh air system and the efficiency of the house.  Not that it's a feature, but also not have to worry about the basement leaking every spring and fall. I like that I don't have to worry about all of the things that need fixing.  Also we now have the space to entertain so we have people over more frequently.