Our High-Performance Homes Are Built Above Code & Exceed Energy Efficient Standards by 40-60%
As Missouri's Best Energy Efficient Custom Home Builder, we rely on two of the nation's most rigorous measures for energy-efficient building: RESNET's Home Energy Rating System and the EPA's ENERGY Star home building standards.
By using these quality measures as a baseline for our building practices, we know every home we build is well above the performance, comfort, and durability measures of conventional and production built homes.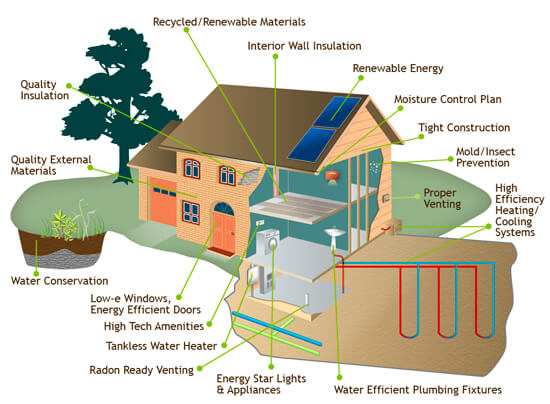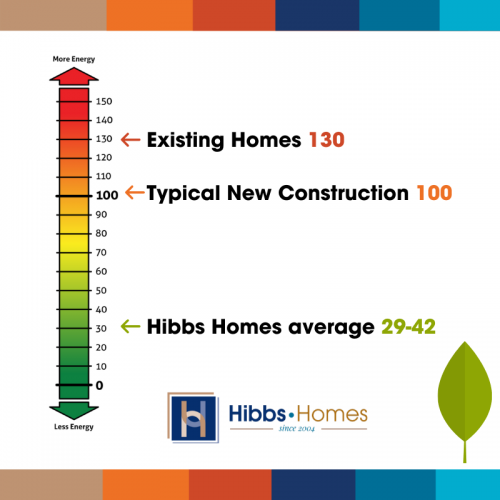 What is the Home Energy Rating System (HERS)?
Every high-performance home we build is measured and certified by an independent energy rating system, known as the Home Energy Rating System (HERS Index).
When your new home's construction is complete, we bring in an independent RESNET Rater to perform an energy efficiency test.
Your RESNET rater will assess the quality, construction, and efficiency of:
Exterior walls - both above and below grade
Floors over unconditioned spaces such as garages or cellars
Quality and craftsmanship of ceilings and roofs
Attics, foundations, and crawl spaces
Windows and doors, vents and ductwork
Operation of the HVAC system, water heating system, and thermostats
During the test, they will also perform a blower door test to measure air leakage into and out of the home. Air leakage is one of the biggest causes of inefficiency in conventionally built homes, leading to higher HVAC bills and the potential for water and pest infiltration of the home.
During the blower door test, the door is replaced with a panel of fabric known as a blower door and all other openings of the home are closed or sealed. The blower door contains a calibrated, variable-speed fan that draws air out of the house when turned on.
HERS SCORES
Using an airflow measurement instrument called a manometer, the RESNET technician measures how quickly new air enters the home. A tightly-built, energy-efficient home will refill with air more slowly. A drafty house will refill more quickly, causing air to pass through the fan faster.
Using the test data, your home is given a HERS rating - which is comparable to the "Miles Per Gallon" sticker required on new cars. Each home is scored on its performance when compared with conventional, code-built homes and existing homes. The lower the number, the more energy-efficient the home.
The U.S. Department of Energy has determined that the typical existing home scores 130 on the HERS Rating Index, while a typical new construction home code-built to the 2006 International Energy Conservation Code is awarded a rating of 100.
The average Hibbs Healthy Home will score between 29 and 42. Net Zero and Passive Homes perform even lower - with a net energy usage of zero.
What is a Hibbs Healthy Home?
When Kim and Jan Hibbs started Hibbs Homes in 2004 their goal wasn't to be the largest builder, they wanted to become the best home builder. Our focus on quality first is what led us to the green or high-performance home building industry.
Because our homes are better quality, more comfortable, and have higher quality indoor air we call the Hibbs Healthy Homes. Every home we build meets this standard for excellence.
We are one of only a select few high-performance home builders in Park City, UT and St Louis, MO who focus exclusively on custom home building. We have emerged as a nation-wide leader in green building, with owner and president Kim Hibbs actively involved in the National Association of Home Builders and even speaking directly to lawmakers in Washington D.C.
Every new home that we build meets or exceeds the rigorous building standards of the EPA's ENERGY STAR program as well as several other green building standards.
You can see, feel, and hear the difference a fully-integrated approach to design and construction makes in a home built using high-performance techniques and materials.
Building a Hibbs Healthy Home means:
Less Air Leaks thanks to comprehensive air sealing, higher quality doors and windows, and high-quality insulation
More Comfort because there are more consistent temperatures with room-to-room and floor-to-floor
Higher Durability thanks to a comprehensive water management system, including flashing, moisture barriers, heavy-duty membranes, and more
Improved Indoor Air Quality because of the tighter building envelope and a high-performance filter designed to reduce dust, pollen, and allergens
Our commitment to building better homes has shaped every home we have built since 2004. It is why we have been recognized as the Best Energy Efficient Custom Home Builders in Missouri three years running and why we are a leader in the home building industry.
Are you considering building a high performance, energy-efficient home? Schedule a time to talk with our custom home building professionals.