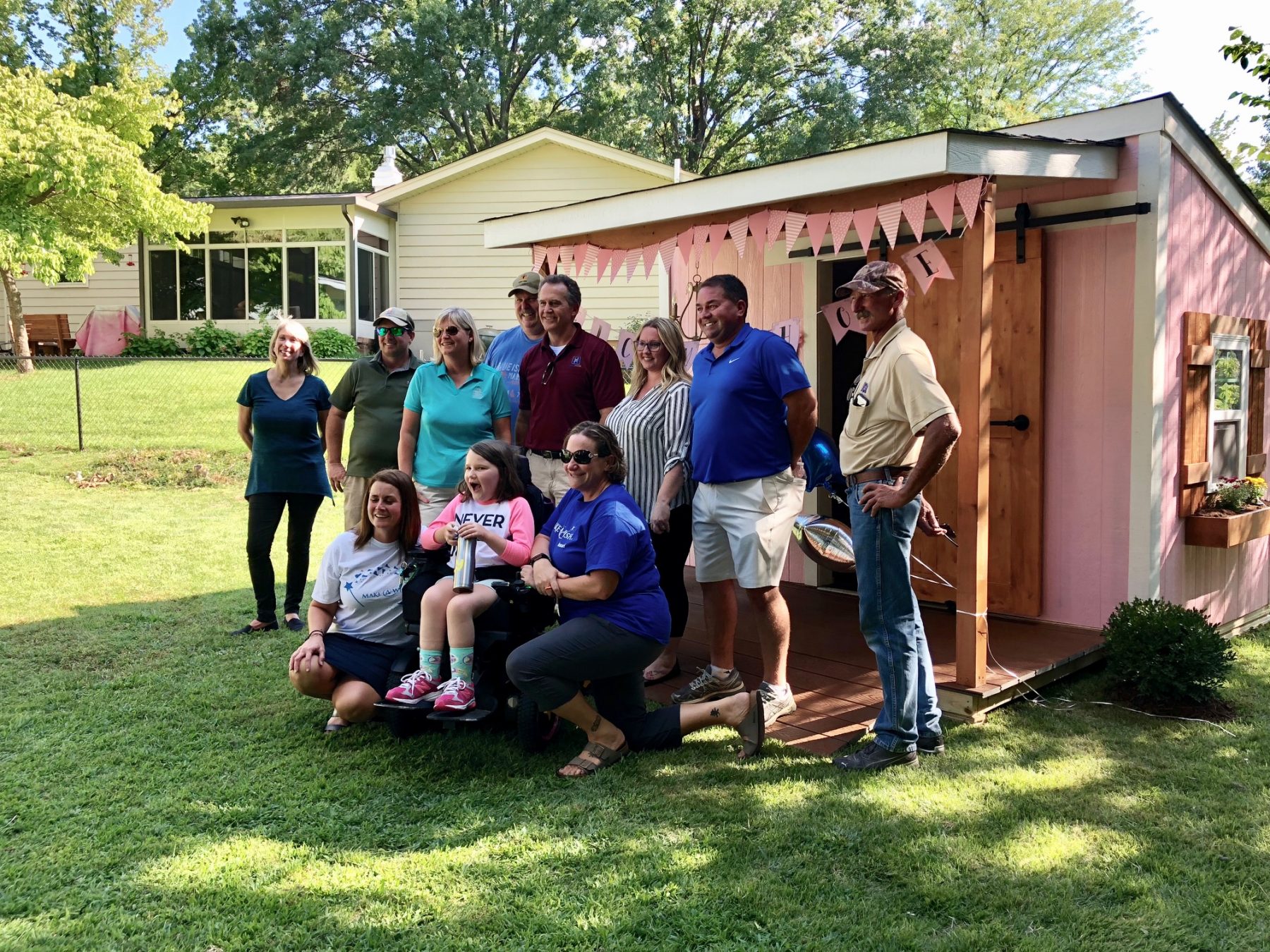 On Tuesday, our team had the honor of giving 8 year-old Tilly her wish. Tilly is a Make-A-Wish Missouri recipient battling a neuromuscular disorder and her one true wish was to have a wheelchair accessible playhouse.
Our team worked to develop a playhouse that would would be fully wheelchair accessible. To achieve this, we created a wheelchair ramp front porch, and an easy roll-up picnic table with seating for friends on one side. The entrance has a wheelchair-height doorbell and an easy open sliding barn door.
Throughout the playhouse, we incorporated touches that fit Tilly's personality. The clubhouse is painted pink, her favorite color. There is a decorative chandelier above her exterior picnic table. Inside, there are small bookshelves with some of her favorite books, and a roll-up chalkboard so that she can doodle (something she enjoys!).
Upon arriving home from school on Tuesday, Tilly was met with a crowd of volunteers, friends, family, and staff from her school. Tilly's reaction as the playhouse and the crowd came into view was absolutely priceless.
In an interview with KMOV, Tilly said, "I didn't even ask for a table. I didn't even ask for a shelf, I didn't even ask for a pink wall. They just came in and made it a fairytale dream come true!"
Watch her surprise in the Facebook Live video below. (Skip ahead to 13:00 for Tilly's arrival)
This beautiful gift was made possible by the generous people who donated their time - much of our staff included - and by our partners who donated time and materials. Our sincere thanks to Hackmann Lawn & Lumber, Chic Lumber, Ambassador Flooring, Hackmann Lumber, GAF Roofing, Ferguson Bath, Two Blind Guys, Sherwin Williams, ABC Supply Co., Old Monroe Lumber, and Wilke Window and Door.
See all of the personalized details & photos from the surprise below:
[robo-gallery id=33417]