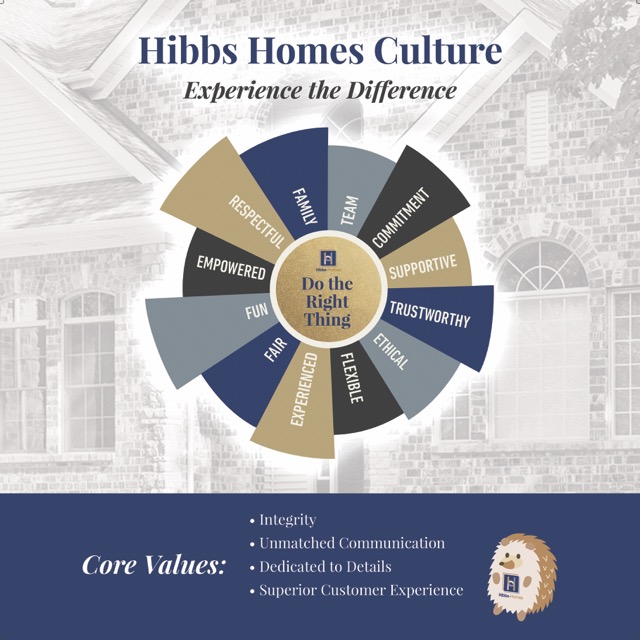 Since 2004, our core values have guided the Hibbs Homes team and driven every decision we make.
These values are the fundamental principles that shape our daily actions and activities.
Comittment to Excellence
We are fortunate to have a team of true experts in the home building field. Our management and superintendents include community leaders and leaders in home building science. We support their pursuit of continuing education and industry expertise, and encourage them to implement their talents in every project. In order to ensure continuous improvement in our work, we continuously seek feedback from clients, team members, and vendors.
Integrity
Simply put, we work to do the right thing in every situation. We conduct our business with honesty and transparency. We believe that we can only build we envision by slowly building relationships of trust with our vendors, clients, and the community.
"Wow" Customer Experience
Clients that choose to build with our team have chosen to include us in one of the most significant experiences of their life. For that reason, we want to ensure that their memories of this time are truly happy. From the first meeting to the final walk-through, we work to ensure that we are simplifying the process of building a custom home, and delivering the home our clients envisioned.
Unmatched Communication
We believe in clear communication. When you build with Hibbs Homes, you'll hear from us often, and you'll have 24/7 access to our online portal where you can review project progress, bids, and construction documents. We want you to feel that you're well informed about your project, in order to avoid any surprises.
Champion of the Client
Our role as your custom home builder is to serve as your champion and advocate throughout the home building process. We'll guide you through the process of achieving your ideal home, within your budget. We'll serve as your sounding board as you make the important choices that make your house a home.