The Derner family lived in a home that suited almost all of their needs, but the biggest problem they had with the home was the location. The couple no longer worked near the area they were living in anymore, so they knew it was time for a move. They looked and looked for a house that included everything they wanted and needed in the St. Louis area and simply could not find anything. That is when they discovered custom home builder, Hibbs Homes. Building a custom home in the area they were looking for allowed them to stay within budget and get everything they wanted, since other homes available did not have a floor plan or price range they were looking for.
They knew building a custom home was going to be best for them because they had an idea of the home design they wanted, but needed to find a builder with experience who could build their dream home in the Webster Groves area.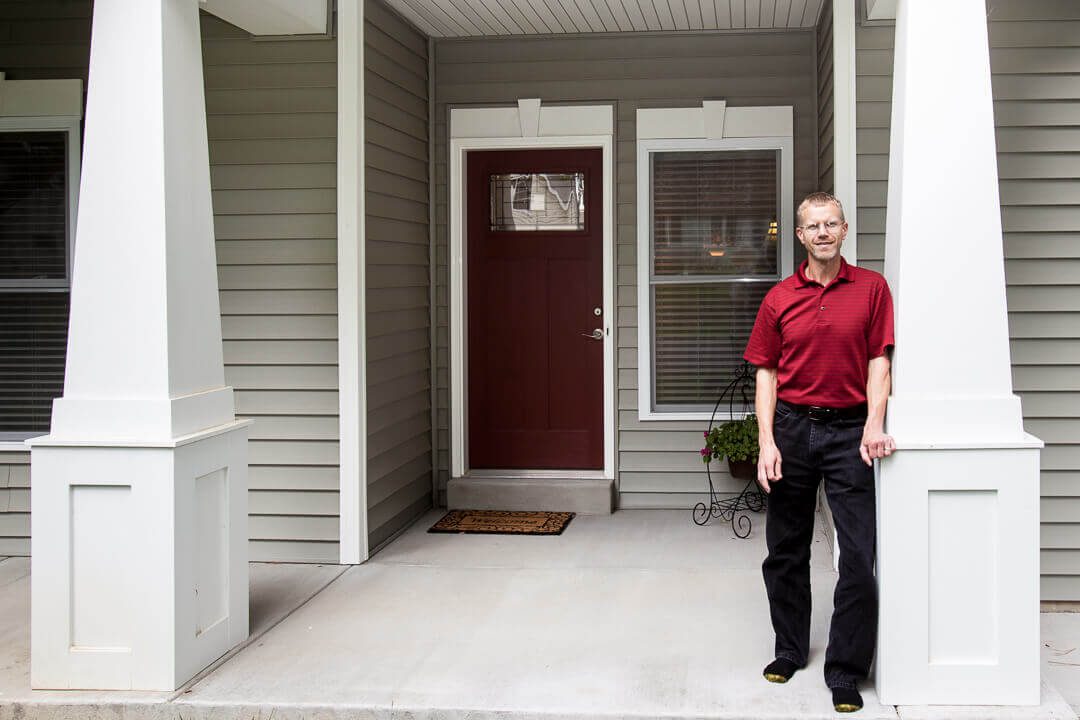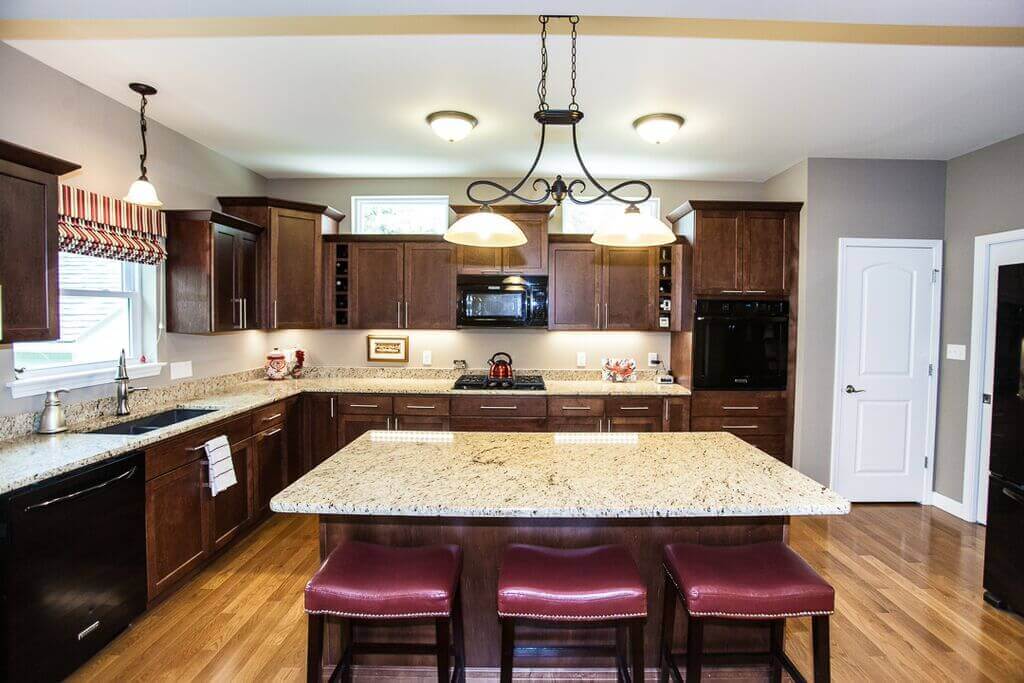 Style and Functionality
During the design phase, they worked with Hibbs Home designer, Krista Howard, to make sure the functionality they desired for their house plan had style as well. Since Mrs. Derner works in the medical field, she wanted to make sure the doorways were extra wide, showers were easily accessible and the master bedroom & laundry was on the main floor because they wanted to be able to live in this home even during their old age. If one of them were to become wheelchair bound or had little ability to move around the house, she wanted to make sure it would be as easy as possible for them to continue living in their dream home. Although this home has many features with old age living in mind, one would never be able to tell because it fits so well with the rest of the design in the home. Having 9-foot ceilings is one of the best home design decisions the Derners feel they made because it opens up their home much more.
The Derners suggest spending lots of time during the design phase to build the perfect house plan for you and your needs. It will end up saving you money and you will love your house even more because it is perfectly tailored to you.
Due to the advice they got from Kritsta, they focused on their kitchen first when it came to designing the home layout. They kept the layout of their old kitchen and made updates and changes such as a wall oven and transom windows that allow in more natural light while allowing privacy. Although energy efficiency was not a main concern for the Derner family as they were building their home they began to learn more about the Hibbs Homes building style and ended up benefitting greatly from the eco-friendly construction methods Hibbs Homes brings to every home they build.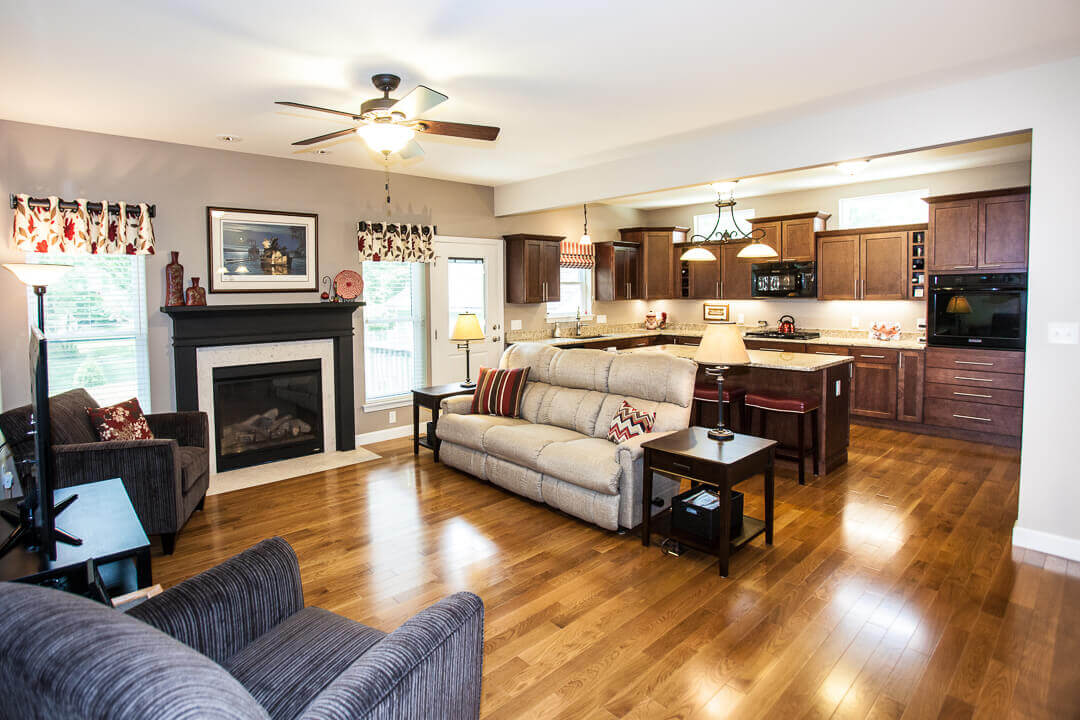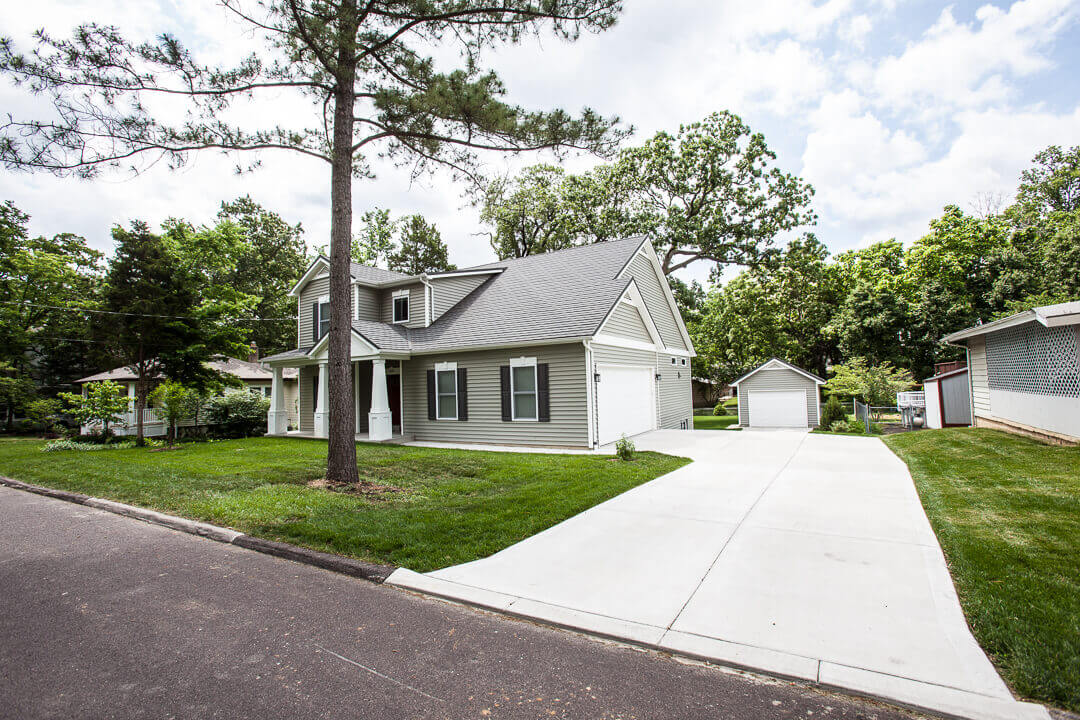 Energy Efficiency
Speaking of eco-friendly home construction, as mentioned before, it was not the highest priority for the Derners. Kim Hibbs told them about the benefits of a geothermal heating and cooling and they realized that it was "no doubt the way to go." Since this new home would be considerably bigger than their old home, they did not want energy bills that reflected that. They also opted in for 2×6 walls that allow for more insulation and sound deadening, two things that are key to making a comfortable home. Mr. Derner told us, "it is a one time cost and it gives you a higher insulation value. It is not something you can do down the road and it starts paying dividends immediately."
The Derners also made a big energy efficient decision by choosing a Gerard stone coated metal roof. They were amazed at what they learned about these roofs. The roof comes with a lifetime warranty, reflects heat away from the home, withstands intense storm damage and is maintenance free.
Although these green home features cost more up front, they begin paying for themselves so quickly that the Derners suspect neighbors with smaller homes would like to trade utility bills with them.
Building Process
The Derners built an infill home, meaning, they bought land in the Webster Groves community and it was built to the Webster Groves standards and home style. No matter where you build a home there will be regulations that limit some ways the house is built. From trees to the color you choose for your home exterior, the community in which you live may have rules dictating this. Since we are St. Louis custom home builders that do not focus within one area specifically, we are very familiar with the rules and regulations of several St. Louis communities. This is one of the reasons the Derner family decided to choose Hibbs Homes to build their custom home. When they saw Hibbs Homes building other homes in the area, they knew that they can trust a builder who is familiar with the community.
The couple tells us that they appreciated the fact that the building process is very transparent all the way through. Using the software co-construct, every invoice from the subcontractors is viewable. Also, they tell us that they found it refreshing to have Kim Hibbs there to help them understand the benefits and cons of any decisions they had to make. They said Hibbs Homes was "quick to respond and very accessible."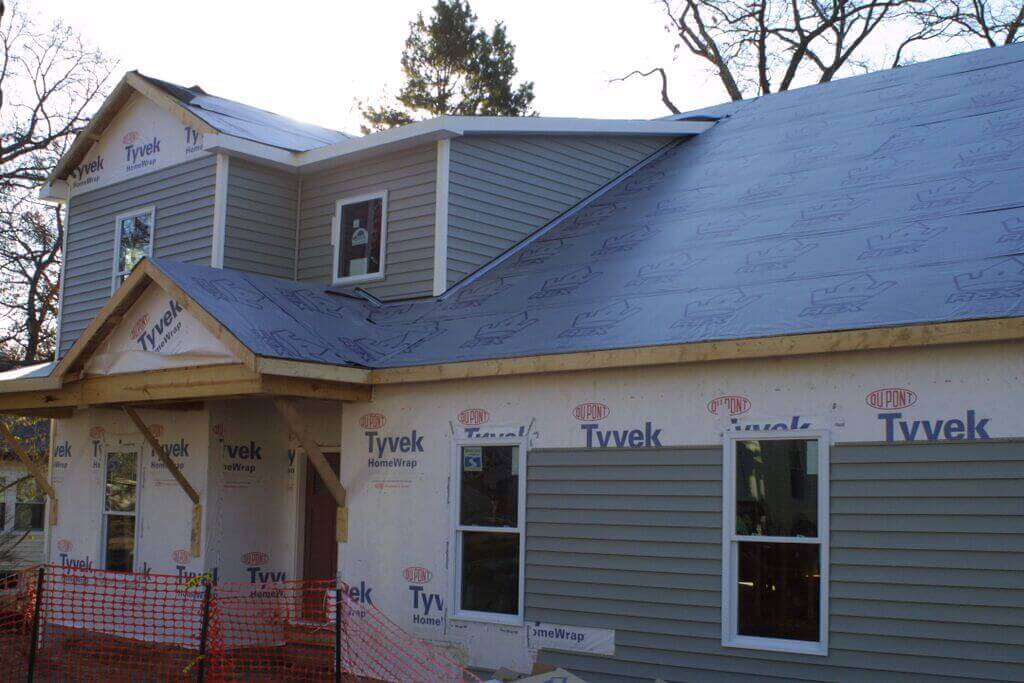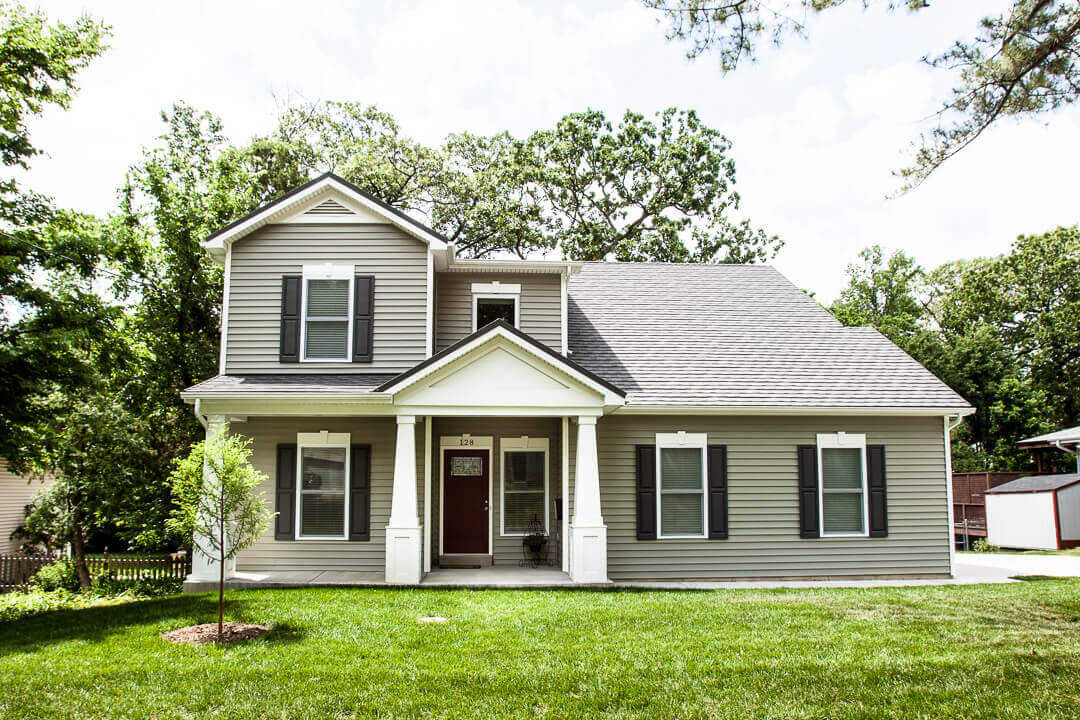 Perfect Home. Perfect Location.
Overall the family is incredibly happy in their new custom home and are thrilled to have a commute to work that is a fraction of the time they spent driving before. Finding a house in the area you love is not always easy. That is why building rather than buying is in many cases more ideal and less costly than buying a home in your favorite area and having to rehab so much of it. If you have questions about building a custom home, feel free to contact the Hibbs Homes team!