Custom Home Designed as an Everyday Getaway For Couple & Their Pups
Barbara and Chris waited more than 10 years to build their dream home, and by the time they began their project with our team, they had a very clear vision of the home they wanted to build. They purchased a large wooded lot more than a decade before beginning construction, and waited patiently to design and build their dream home on a hill while they searched for the right builder to help them bring their vision to life.
Both Barbara and Chris have professional jobs that can be high-stress at times. Their vision was to design and build a home that would be a true retreat from the pressures of their work world.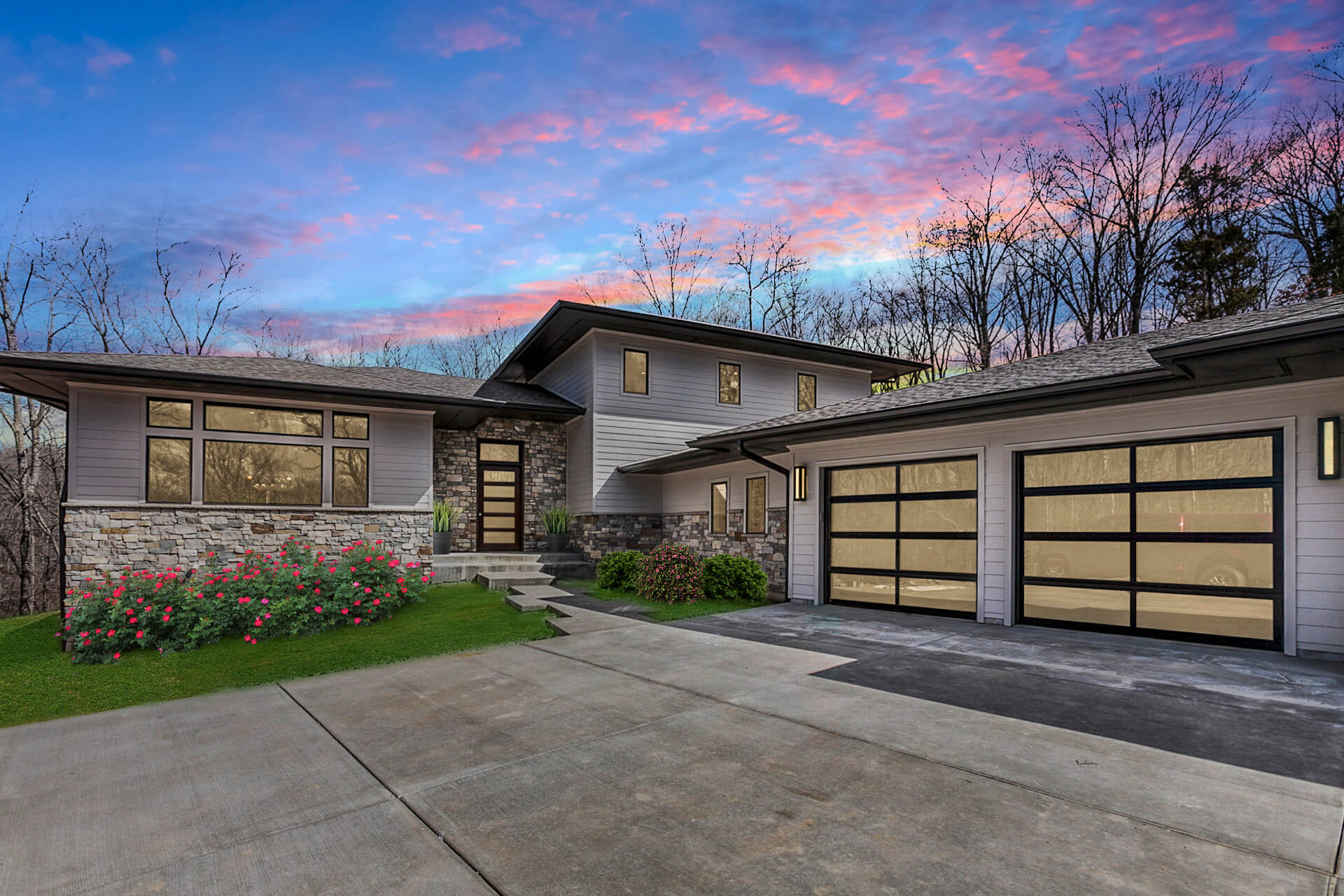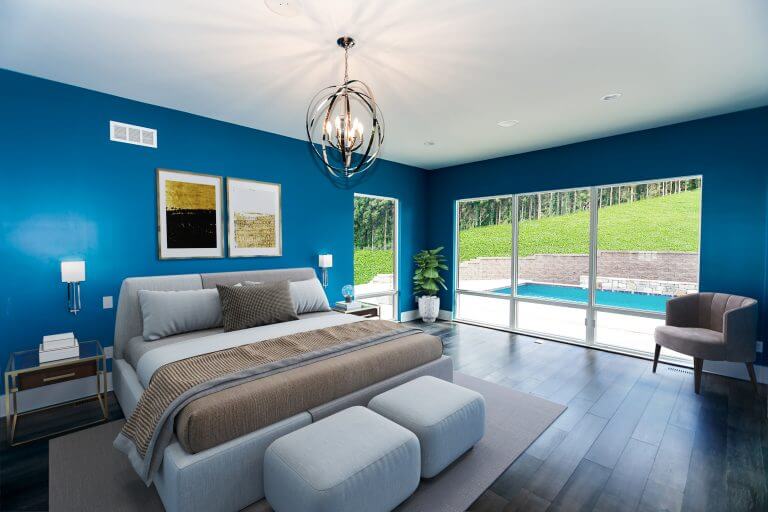 "We wanted to design a home where we could spend time together, a place where we could unwind from the stress of our day-to-day lives," said Barbara. "We don't have any kids, and every home that we looked at seemed to have 4 or 5 bedrooms - which is really just a waste of space for us. Those homes were designed for family living - but not really for our life."
The Bolk-Tebbe home was complete at approximately 3,500 square foot. Their 1.5 story home has only 2 bedrooms but is the perfect retreat for the couple and their small dogs.
Main Floor Man Cave
Chris's man cave was designed on the main floor instead of the basement, which is typically more common. "I wanted my husband to be able to have his space to relax or hang with friends right on the main floor," said Barbara.
The area includes a fireplace, a wet bar, a walk-out to the pool and outdoor firepit, and will be home to a pool table his father restored.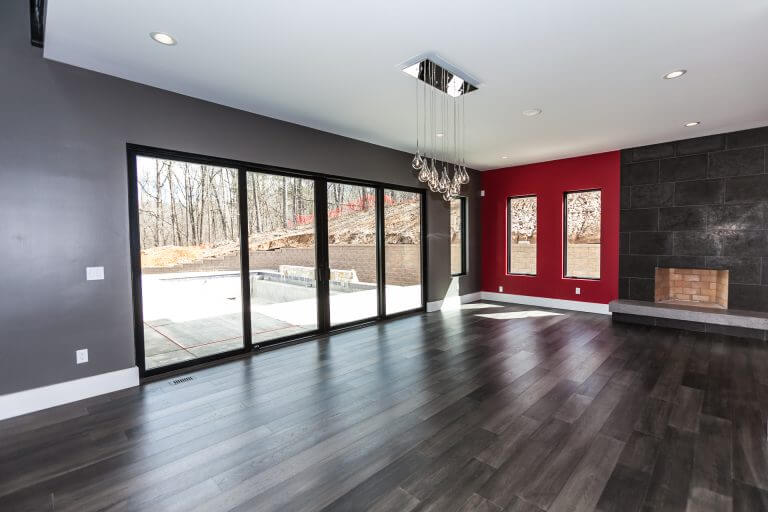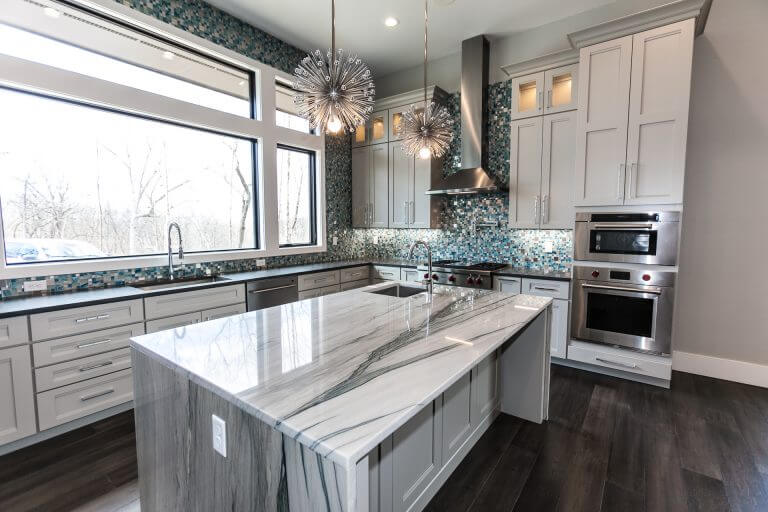 Permanent Vacation
Chris and Barbara enjoy Caribbean vacations and wanted to design their home retreat to be a reminder of those trips - to create a feeling of permanent vacation. The house was designed so that the couple can enjoy the view of their pool, fire pit and backyard landscaping from every room of their house.
They've included a three seasons room with a retractable screen so that they can enjoy their outdoor space for as much of the year as possible. Caribbean Blue accents on their bedroom walls and kitchen tile are another nod to vacation vibe. The blue paired with the light, airy white cabinetry and white stone fireplace gives the whole home an airy, light feeling.
Designing To Age In Place
The luxury home was designed with an eye towards the future. Borrowing from designs for aging in place - or accessible design standards -  the couple included a low-entry shower, wide doorways, and added a main floor laundry room accessibile from the main bathroom. "We have designed our ideal home. We want to stay here as long as possible," Chris explained.
A Home Built for The Entire Family
Barbara and Chris are proud parents to two Yorkies, and they wanted to consider their furry family members while designing their home. They included a doggie door from the screened in porch to the outdoor area, a dog-station bathing near the mudroom to clean the pups after outdoor adventures, and they included pedestal areas around the pool so the dogs would be safe should they fall into the pool.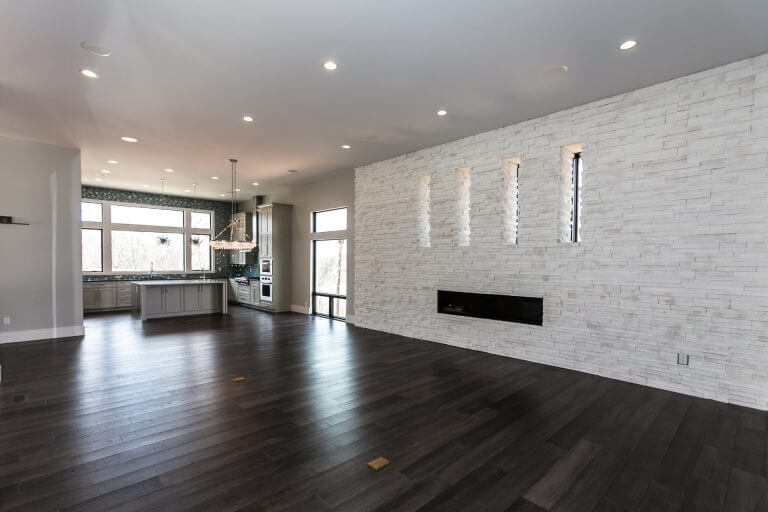 Building Their Dream Home from Scratch
Chris and Barbara enjoyed every part of the home building process. During construction, they would often visit their lot to see progress. "We would pack up the dogs, and bring over two tables and lawn chairs and some wine. We'd sit at the door of what's now the game room and we'd call it 'our new favorite winery.' We would sit here on Sundays and appreciate the progress that had been made and watch our dream become a reality."
Working With A Custom Luxury Home Builder
"I have a big personality," said Barbara, "and we had a specific vision. It wasn't easy to find a builder that would let us really guide the process and be a part of it in the way we wanted. We searched for a long time, and had some false starts with other builders and architects. We went through four architects before we found Jim Buljeski, our architect, and it took a while to find a builder like Hibbs Homes," said Barbara.
Chris and Barbara have some tips for finding the right home builder. "When you're choosing your builder or your architect, treat it like dating. It's really like dating. If it doesn't feel right, walk away. We chose well - but it took us time to find the right partners," said Chris.
"Finding Kim Hibbs and his team was a miracle. Kim and Neil were incredible and so helpful in guiding us through the home building process. The communication was great throughout the process. Neil and Kim would check in with us often - and the team in the office was always on top of things. We would highly recommend working with them to build your dream home. We're so excited to finally move into this home and to begin our lives here."
Virtual Tour of the Home
Scroll left and right to explore the finished home.
MASTER BEDROOM & BATHROOM
Do you have a vision for your dream home? Work with Hibbs Homes to bring it to life. We build on your lot or in one of our communities. Contact us today to learn more. 314-392-9631 or click here to submit a request online.