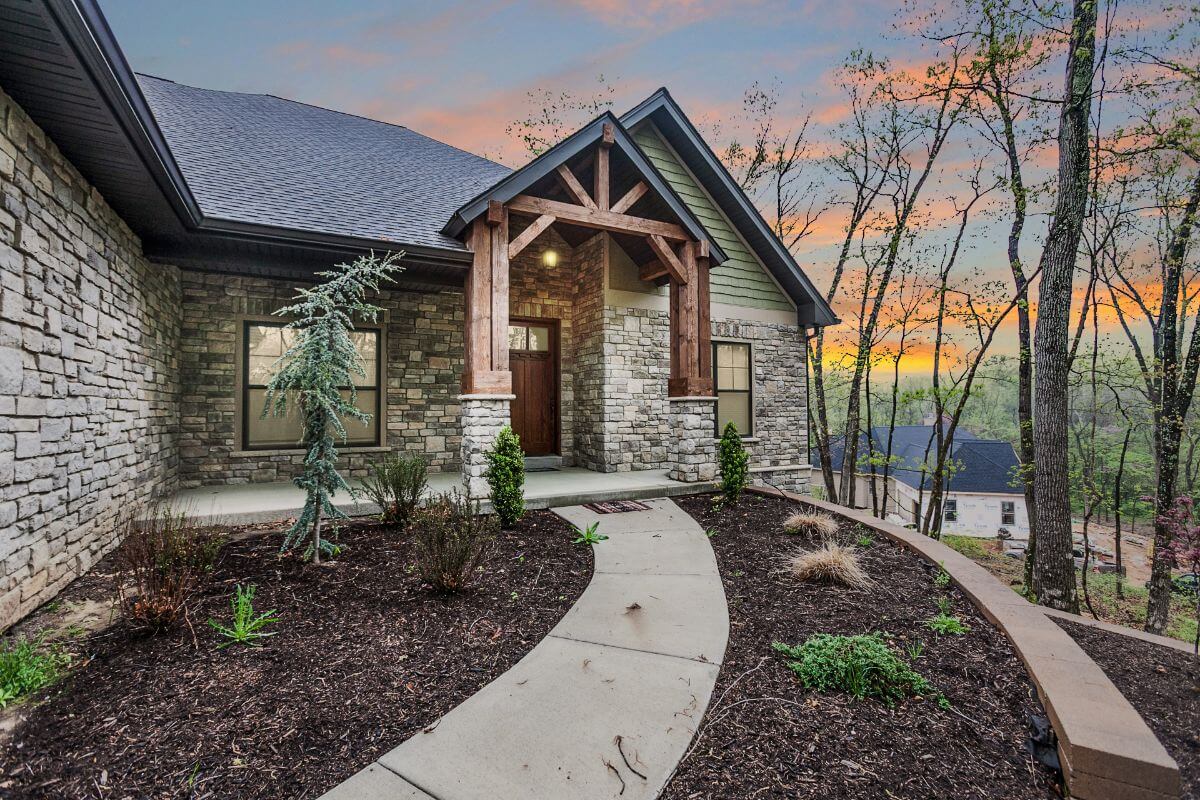 This custom ranch home was built in St. Charles County for clients who were relocating to the St. Louis area. Sean and Michelle had long wanted to build a custom home - and wanted to ensure that their build included extra garage space for the husband. As an engineer in the automotive business, Sean lives and breathes cars - and needs plenty of room for working on them in his downtime. Another priority for their family was energy efficiency. Having identified their priorities and goals for their new home, they began their search for a custom home builder by talking with family, friends and local professionals.
"When looking for a builder for our custom home, we started by asking many local vendors and tradesmen, who they would use on their own house," said our client, Sean, "One name kept coming up and it was Hibbs Homes. After our first meeting with Kim, and discussing their pricing model, we were sold. It was incredibly refreshing to have a meeting with a builder and not feel like I was a car dealer getting a high-pressure sales pitch. That low pressure, helpful attitude continued throughout our entire build process."
We worked with the clients and architect John Odom to develop the design for this custom, energy-efficient home. Architectural drawings are shown below. The final design included 2,599 square feet of finished living space on the main floor, 1,892 square feet of finished space in the basement, and more than 2,100 square feet of garage space for Sean's cars.

Scroll down for images of the final finished product. The home is finished with:
Custom Wine Cellar with Whispercool Wine Cooler

Theater Room

Rogue Valley Mahogany Exterior Doors (Wilke Window & Door)

Evergrain Envision decking in Rustic Walnut with Bronze handrails (Hackmann Lumber)

Stainless steel Frigidaire appliances (Ferguson Showroom)

Custom landscaping with natural stone retaining walls

Custom heated garage

Upgraded insulation and Owens Corning Energy Complete throughout the home
Now that the build is complete, Sean and Michelle shared, "Every custom home build is going to have its difficulties and what separates a good builder from a great one is handling them without causing stress to the homeowners. Now that we are all moved in we couldn't be happier with our home. I would highly recommend Hibbs to any friend or family member looking to build a house in the St Louis area." Read their review on Houzz.