On the eve of Earth Day, the owners of one of North America's most energy efficient homes share their experience living in this unique home.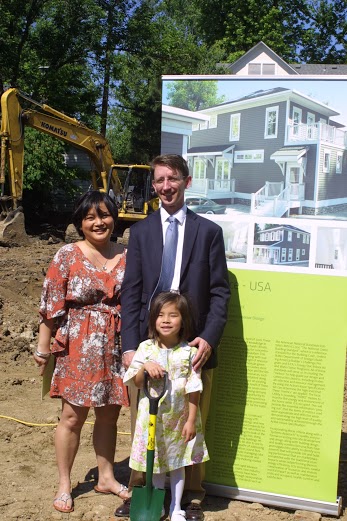 Three years ago, hundreds of people lined up to view a one of a kind home built in Webster Groves. The home, built by Hibbs Homes and designed by Jeff Day & Associates Architects was the very first Active House built in the United States. The Active House Alliance, a Dutch nonprofit organization that works with sustainable builders around the world, connected with St. Louis custom home builder Hibbs Homes to create a prototype house that would be used to bolster green home building standards worldwide.
This one-of-a-kind home provided data that was used to support the development of a newly crafted green home building standard known as the Active House Alliance standards. Traditionally green building standards concern themselves with the materials and building processes, but Active House standards are the first of its kind in that they evaluate and design with a concentration on what happens in the home after the homeowners take residence.
St. Louis was the perfect area to test an Active House because of the constant change of temperature and humidity levels. The end result was a home that ended up performing even better than designed.
"When Matt Belcher and I initially talked to the Smiths about building them a custom home, we shared our passion for energy efficient high performance building. As we talked with them about the possibility of building an Active House, Thuy and David, who is a CPA and engineer, was truly able to see how it made sense to build to the highest of green building standards now in order to save money in the long run and reduce their carbon footprint. They grew excited that their new home would set an example for the home building industry, encouraging others to build more environmentally responsible houses," said Kim Hibbs, owner of Hibbs Homes.
60% more house, 80% more efficient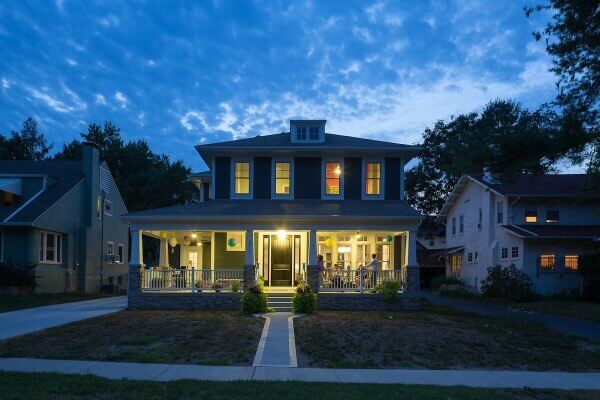 Just in time for Earth Day, the homeowners, David and Thuy Smith, share their experience while living in the Active House thus far and how it has impacted their lives.
Driving by the Webster Groves Active House, one would hardly be able to tell that it outperforms the homes on either side by 80%. "The design, style, and blending into the neighborhood were extremely important to us. We love the historic nature of Webster but wanted the comfort and amenities of a modern home," said homeowner Smith.
The home was designed to blend in with the neighboring century-old Webster Groves homes while meeting the indoor air quality and energy efficient parameters set by the Active House Alliance. When designing a home like this, "full consideration for the way a home is lived in should always be considered. Everything from room to room, and hour to hour of use should drive the final design such that the comfort of the occupants is met or exceeded. This directly impacts the energy use of a home beyond the building envelope and active solar considerations," says Jeff Day, architect of Active House. The Smith family says even though their new home is 60% larger, their energy bills cost less each month. That can be attributed to their use of 5 different forms of energy. This Webster Groves home uses natural gas, solar PV for electricity, solar thermal for heating, little electric, and natural lighting.
Matt Belcher, of Hibbs Homes and Verdatek Solutions, served as the lead green building consultant for the project. "Our focus on this home and all our homes and projects is from a true investment standpoint. This is typically the largest investment our clients will make. As with any other investment, we want it to perform over its life as efficiently and effectively as possible for our client. It is purposely built well above code to be durable and comfortable. The fact that it intrinsically has a softer environmental footprint just adds to that value, and is the right thing to do," said Belcher.
Living in the Active House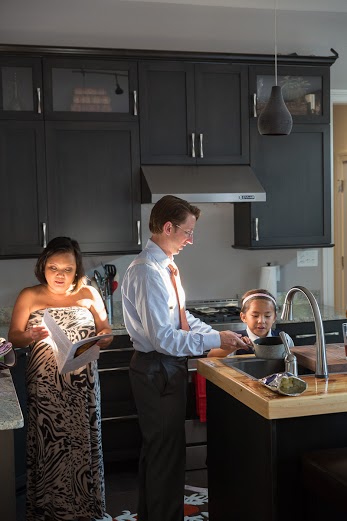 A typical day in this home greatly differs from most. Upon walking into the home, it is impossible not to notice the welcoming natural light. With a liberal use of skylights, the Smith family enjoys natural lighting throughout the day without the need or desire to use artificial lighting. On a beautiful St. Louis day, sensors on the windows detect the outside temperature and automatically open to allow for natural ventilation. Without even lifting a finger those in the home are able to enjoy the fresh air.
Speaking of air, the home was built incredibly tight in order to allow for superior indoor air quality. The University of Missouri studied the home for the first year of living in it with the use of meters and detectors throughout the home that measures things such as humidity, formaldehyde, carbon dioxide, carbon monoxide, and various other air pollutants. The university found that the home's air quality was even better than they expected. Trying to find a draft or area of the home where the temperature drastically changes is nearly impossible. The home maintains a consistent temperature and easily adapts to different temperature demands.
When asked why a potential home owner should consider building green, the Smith family said, "Building green doesn't mean making sacrifices in comfort. On the contrary, the intangible benefits to building green far outweigh the nominal upfront costs."
The future of green home building
Kim Hibbs, the chief builder on this project and a Master Certified Green Professional, said,
"Active House was incredibly ahead of its time in regards to energy efficient home building techniques. Hibbs Homes uses many of the same building techniques introduced by the Active House project 3 years ago."
Hibbs shared that the demand for high performance homes is increasing, and that builders are working to meet the demand by taking a more holistic approach to home design and building techniques - one that is more cost effective, efficient, and environmentally responsible.
"Today, more and more builders are working to create a home that will last longer, use less energy, and provide better indoor air quality and comfort," said Hibbs.
When Active House was being built, the national percentage of builders choosing to build green was at about 10%. Today, that has grown nearly 400% - with a projected 40% of home builder opting to build homes to higher standards of energy efficiency and durability within the next 2 years, according to Belcher.