Custom Ranch Floor Plan Library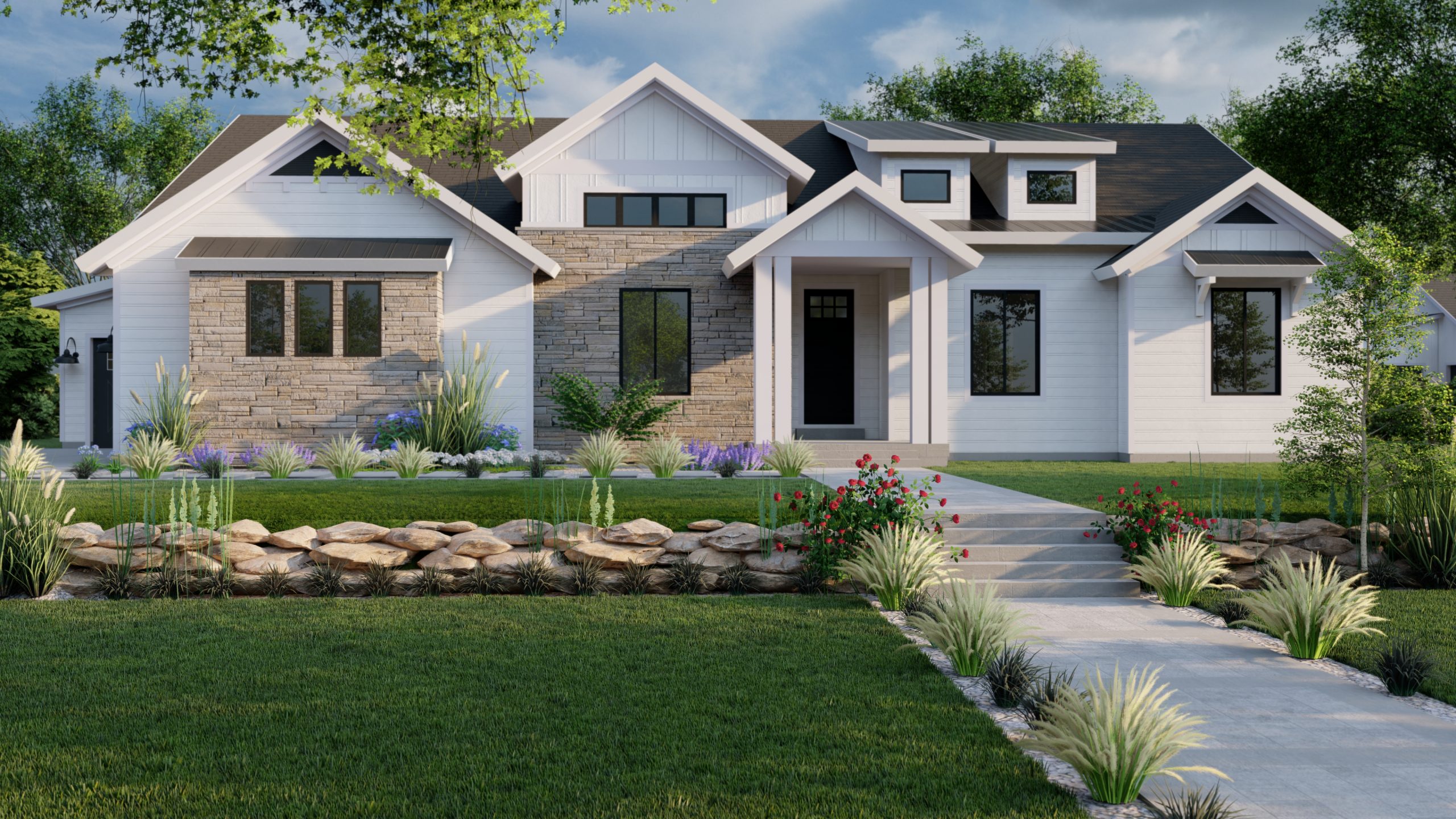 Style: 1 Story
Square Footage: 5,475
Bedrooms: 6
Bathrooms: 3.5
Garage: 3 Cars

VIEW FLOOR PLAN
About Our St. Louis Single-Story Home Plan Library
Hibbs Homes builds custom ranch-style homes on your lot. Ranch floor plans typically range in square footage from 2,700 to over 6,000 square feet.
Whether you want to design a your custom home from scratch or modify an existing floor plan from our library to fit your land and lifestyle, our team is here to help you get started on the journey towards your dream home.
Explore our custom floor plan library to get inspired and find our more about the price to build your dream home.
What is a Ranch-Style Home?
Ranch-style homes are expansive, single-story homes, and often they are built on larger plots of land. They come in all shapes and sizes depending on which part of the country you live in and are an especially great option for multigenerational families.
One of the biggest benefits of a ranch-style home is that they often have easy access to the outdoors at multiple points in the home and many can include a central courtyard. While the main architectural feature of a ranch-style home is the single-story, the floor plan is often spread over a large area with a roof that is pitched low. Many modern ranch homes also feature beautiful picture windows and expansive porches.
Types of Ranch Floor Plans
American architecture styles are in the midst of a surge in popularity. From the modern farmhouse trends to the modern prairie, some of the most popular style of homes we build have deep roots in American Architectural styles. And one of the most distinctly American designs for homes is the ranch-style home. In fact, many of the trends in modern home designs borrow significantly from characteristics of ranch style homes.
There are several types of ranch-style homes that are well known.  For example, there is the California style ranch that started to be built around the 1930s and it is this design that is referred to as the classic look of a ranch-style home.  It was designed by an architect called Cliff May.  This style often centers around a courtyard which is why they are often U-shaped or L-shaped.  The other type of ranch is the Suburban ranch style home which does have many features of the California ranch but doesn't have as much space.
Common Features of Ranch-Style Homes
Ranch-style homes have been popular in St Louis since the early 1930s - and for good reason. Ranch homes can be imagined to meet any design & style taste - from modern to rustic. A custom ranch home is a blank canvas to build a home you'll never want to leave.
The original open floor plan, the ranch-style home has a large open space layout with your primary living area centrally located. The bedrooms often accessed by a long hallway which offers more privacy for sleeping.
One story floor plans are often spacious and flow from inside living spaces to outside living spaces with an ease that can be hard to replicate in 1.5 or two-story houses plans. Luxury ranch homes with U-shaped floor plans are often anchored by pools, gardens, and outdoor kitchens in the center. Another popular take on this style is for asymmetrical floor plans with 3+ car garages on the side elevations.
Another feature of the ranch-style home is that single-level homes are considered more safe and adaptable for family members at every stage of life.
Another benefit to building a ranch-style home is the general ease of additions at a later time because you can build both up and out.
Universal Design & Ranch Floor Plans
Single floor and split-level ranches, also known as an atrium ranch, are popular choices for homeowners because of their practicality and longevity. Safe for both children and our aging population, the single story of the home makes it accessible for many. Building a single-story home is an ideal solution for homeowners who want to build a home where they can age in place because they naturally fit many principles and easily adapt to Universal Design (UD) floor plans.
Also known as ADA or accessible design, Universal Design is based on a set of principles for accessible home design. At the most basic level, accessible home design makes a home more comfortable and convenient for every member of the family, at every stage of life.
Building a custom home allows you to incorporate accessible design elements wherever they are needed, meaning your floor plan is accessible for family members with limited mobility and/or sight differences and continues to serve people as they age.
Hibbs Homes has experience working with certified-age in place designers to build homes focused on energy-efficiency and Universal Design principles so our clients could retire in their home and stay there safely and comfortably as they age. Other clients have built homes with some basic accessible design features, such as multiple master bedrooms, to accommodate multiple generations and plan ahead for their own needs as they age. The extent to which you include accessible design in your custom home is entirely up to you.
Contemporary Ranch Floor Plans
Whether you're planning to build a home with a modern-industrial style, transitional, modern farmhouse, or modern contemporary, our custom home building team is here to help you make the design choices that will bring your dream home to life. Atrium ranch and ranch-style homes lend themselves to a variety of architectural styles, and in working with a custom home builder your options are only limited by your imagination.
Hibbs Homes has won the Custom Home of the Year Award from the St Louis Home Builders Association multiple years in a row, and both our 2019 and 2021 Custom Home of the Year winners were contemporary atrium ranch homes built in Town and Country, MO.
If you're ready to begin designing your custom ranch home in St Louis, contact our expert home building team. We'd love to help you develop the perfect floor plan to fit your family's needs.