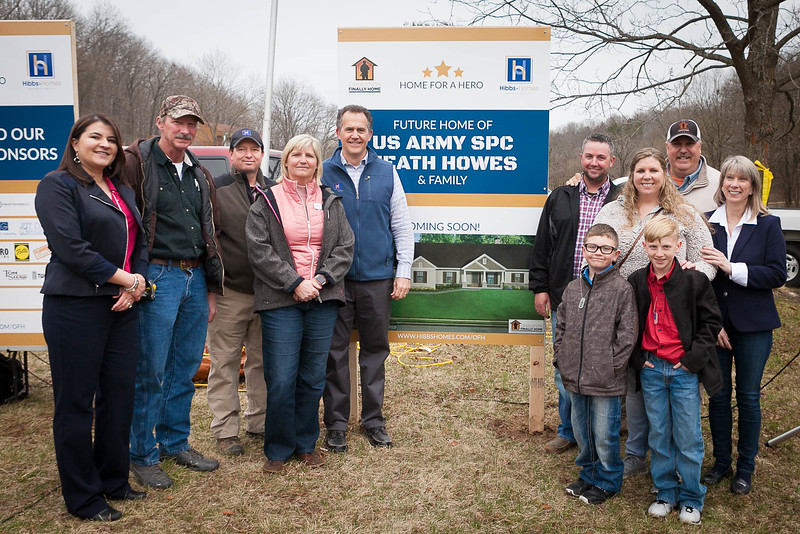 On Thursday March 22, we had the great pleasure of breaking ground on a new mortgage-free custom home in Wildwood's Hawk's Rest community for US Army SPC Heath Howes and his family. Construction for the Operation FINALLY HOME custom home will be underway later this spring. We look forward to inviting the public to join us for a fundraiser event this summer - and then to a ribbon cutting ceremony in fall 2018.
About the Howes Family
U.S. Army SPC Heath Howes served in Afghanistan, enduring a number of hardships during his deployment. In 2012, his vehicle was struck by a 200-pound improved explosive device during a vehicle patrol. The attack took the life of his best friend and another soldier in the vehicle. Howes and his captain both sustained life-threatening injuries. Since his return, SPC Howes has worked to recover from a traumatic brain injury, nerve damage, fractured ribs, a collapsed lung and more. He continues to deal with the impact of post-traumatic stress disorder (PTSD). He was honorably discharged in 2014 and has received multiple awards including a Purple Heart, an Afghanistan Campaign Medical with two stars, and a NATO Medal. The Howes has family in the St. Louis area and they are looking forward to finally being home!
SUPPORT OPERATION FINALLY HOME ST. LOUIS
Donating Time, Materials & Labor
We are currently in need of skill carpentry labor, lumber materials, and cash donations for this project. Please contact Matt Belcher with Hibbs Homes & Hibbs General Contracting at (314) 293-9631 or matt (at) hibbshomes (dot) com.
Donating Project Funds
Click here to donate funds toward this project.
Thank You to Our Supporters
Thank you to all of our vendor donors for their support and donations of time & materials to this project. Visit our Operation Finally Home page for an up-to-date list of all of our project supporters & vendors.